Shelton, Connecticut (October 26, 2016)—On Wednesday, October 26, 2016, the Greater Valley Chamber of Commerce presented six awards: one Platinum Award, four Gold Seal Awards, and one Silver Medal Award. Presented to the region's business and community leaders who exemplify the spirit of selflessness and volunteerism, these awards are among the most prestigious and time-honored community service awards in the Valley.
The Gold Seal Award was first presented in the 1971. Since then, only 155 individuals have received this honor, making it an award that is rare and cherished by all. This award is presented annually by the Greater Valley Chamber of Commerce for outstanding community service through dedicated and effective leadership. These recipients join a distinguished group of people dedicated to community service.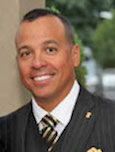 Ramon Peralta Jr.— This exemplary leader in both business and the community, Ramon demonstrates time and time again that he is ready, willing and able to help when the need arises. He is a Life Member of Alpha Phi Alpha Fraternity, a member of the Shelton Exchange Club, and is a volunteer and former board member for the Connecticut Chapter of the March of Dimes. He also volunteers for the Chamber's Technology Council, NSBE Jr. and participates in Bridgeport Public School system's Read-Aloud program. An active member of the Valley United Way Corporate Volunteer Council, Ramon recently joined the 2016 Campaign Cabinet.