ALS Foundation of Connecticut
The Challenge
The ALS Foundation of Connecticut, a non-profit whose mission is to find treatments and a cure for ALS while helping support and empower the people who suffer from the disease, originally approached PD seeking to have their website redone. But after engaging with Peralta Design they ultimately decided that what they needed more was an Annual Report.
The Solution
Armed with the data and stories from ALS, the Peralta Design creative team got to work on creating a visually comprehensive Annual Report that would be a showcase of all the achievements the ALS Foundation of Connecticut had accomplished as well as a celebration of the people they had helped over the past year. Despite ALS being a disease that can be debilitating and tragic the ALS Association of CT mission is one of empowerment and positivity.

Execution time: 0.0049 seconds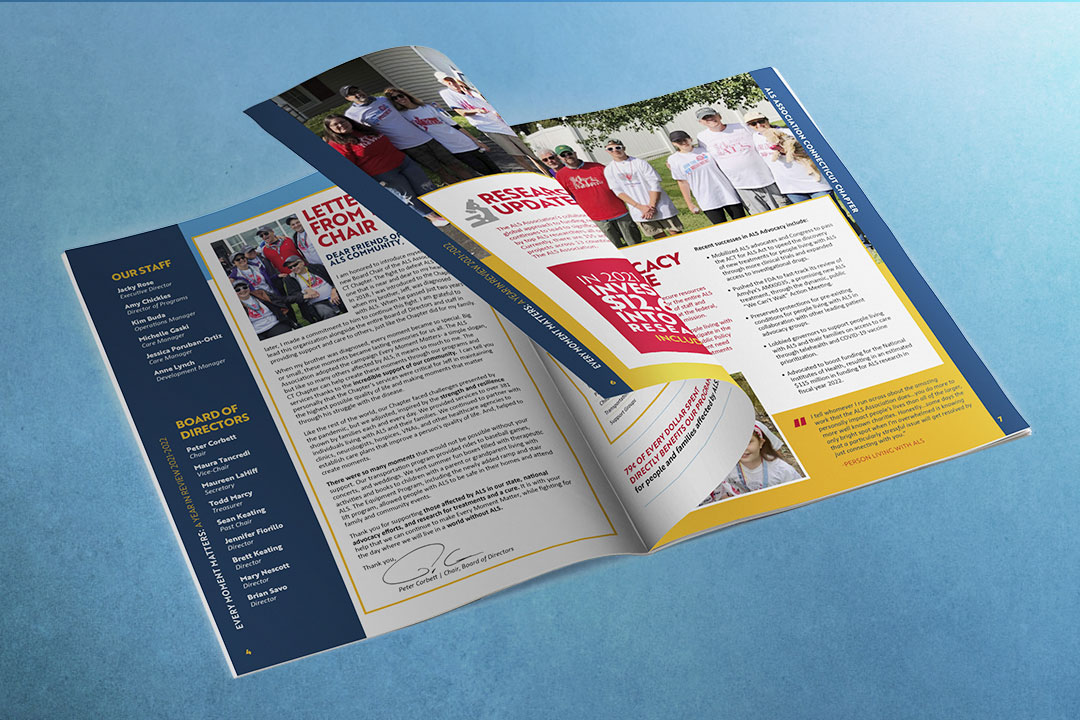 Creating an Animated Flip-Book
Along with providing a print ready version of the Annual Report, Peralta Design also set up a HTML flipbook. This version allows for the same page turning interactivity of the physical book while on a digital display. Creating a more interactive report for those who don't have a copy of the printed version than just a simple page scrolling pdf.
"I just wanted to say thank you for all of your work on our Annual Report and Buck Slip. You immediately understood our brand and our needs. You did a terrific job incorporating everything we needed, understanding my edits, and producing a really magnificent piece.
I just received the printed version of the report and it looks so great- I am so excited for our donors, community partners, and supporters to receive this. It truly was a pleasure working with you and I hope to do more projects together in the future!"
-Jacky Rose, Executive Director