The Challenge
DNB Lobby is a New Haven-based government relations firm advocating on behalf of clients, utilizing their extensive reach with local and state officials, business and community leaders across Connecticut. Their existing brand identity and website were in need of an upgrade both in its visual presentation and its ability to tell the firm's story and highlight their service offerings. In addition, they needed a digital strategy that will allow them to cultivate their own database of qualified leads that they could market to.
The Solution
Peralta Design's full team went to work in evolving their brand identity with a new logo and put together a website that is clean and elegant, thus putting the DNB Lobby brand story front and center. By incorporating a blog platform and placing it prominently on the homepage along with their Facebook feed, the website positions the firm as a resource for their current and future clients as well as the community at large. The PD digital marketing team then developed a digital strategy consisting of creating display ads which featured a free e-book download that were served up on LinkedIn.

Execution time: 0.0034 seconds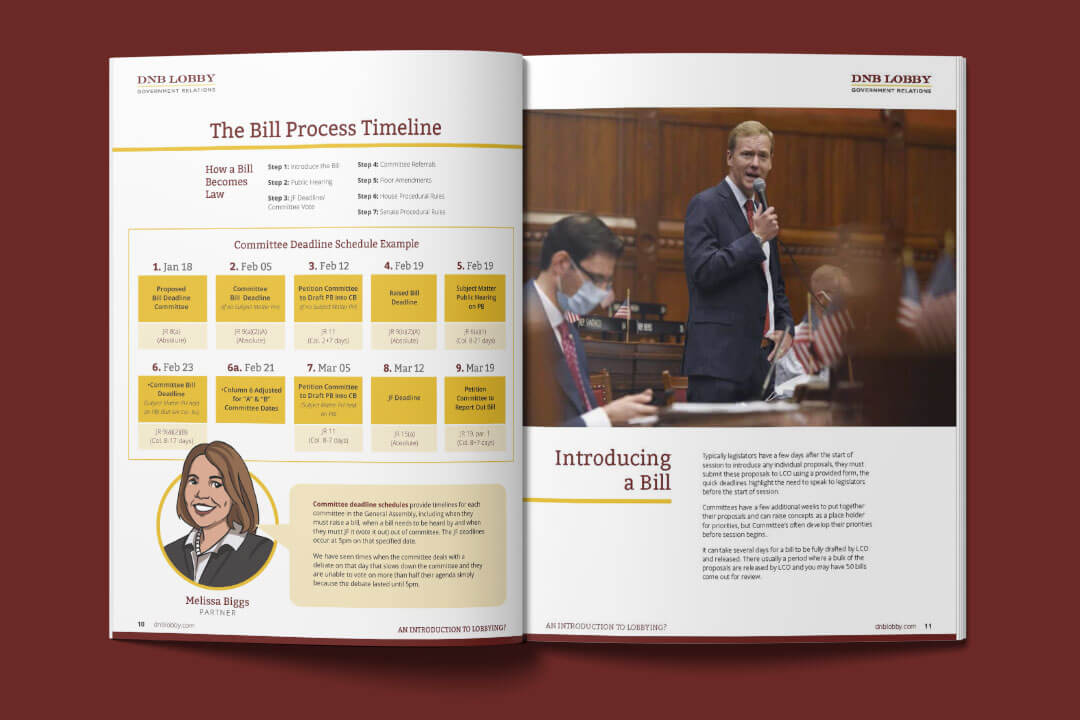 The PD Team brainstormed with DNB Lobby and collectively decided to create an e-book entitled "Lobbying 101." The approach was to take a normally dull/dry subject matter by making it light and educational. Our team of illustrators began creating characters out of each principal and laying out a book that explains what lobbying was. Through display ads that were boosted on LinkedIn, the campaign required users to exchange their email addresses for the free download. Over the course of 3 months, over 65 leads were generated for DNB Lobby.
How do you make a heavy topic lighter? By incorporating custom illustrations and utilizing good typography and information design. Stock photography and stock illustrations work in a pinch, but when you want to make your content stand out, nothing does it quite like custom vector artwork and this e-book's use of illustrations was no exception.