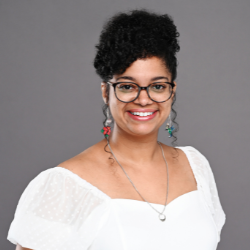 Amanda Barnes
Senior Art Director
In  2012, Amanda graduated summa cum laude from SASD at the University of Bridgeport with a Bachelor of Fine Arts in Graphic Design. Shortly upon graduating she started as an intern at Peralta Design and moved her way up to Art Director.
She is skilled in Photoshop, Illustrator and InDesign but likes to dabble in and explore other creative programs such Blender and Google Sketch Up. She brings strong design and illustration skills to the team and has worked on high profile projects for us for such as Jewish Family Services, Urban Community Alliance, Sallie Mae, Modern Plastics, and BiC. A true artist, we are blessed with the creativity she brings to the office everyday.
She also loves to create at home: getting her hands dirty in all kinds of arts & crafts projects, from sculpting and painting to jewelry making. We love getting her take on what latest Netflix series to binge watch and her unique culinary tastes for anything 'sweet and spicy' always make lunchtime fun.