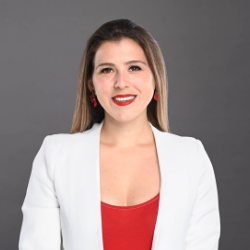 Fernanda Ferrari
Digital Marketing Consultant
As PD's Digital Marketing Consultant, Fernanda supports the Digital Marketing team to help clients increase sales, increase brand awareness and increase traffic via innovative Google advertising and targeted social media strategies.
Fernanda's enthusiasm and yearning for self-betterment is awe inspiring; She is never afraid to ask questions and hunt down the information she needs. She is a non-stop, passionate, and spirited person who continues to model the can-do attitude.
As a previous marketing analyst, Fernanda managed numerous accounts. She is certified in Social Marketing and Social Advertising. Fernanda loves analyzing data and makes a huge impact on Peralta Design and its clients. Fernanda enjoys spending her time with her beautiful daughter, hiking with friends, yoga, and traveling.