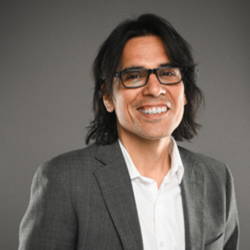 George Ramirez
Interactive Designer
George Ramirez brings mellow vibes and creativity as a Multimedia Designer at Peralta Design, contributing his skills as both graphic designer as well as front end and WordPress developer. Shortly after graduating from Fairfield University with a Bachelor's Degree in English, George furthered his education by enrolling in Housatonic Community College taking courses in art, graphic design and typography, while becoming proficient in Adobe Creative Suite.
He began his graphic design career at a media placement agency in Norwalk where he quickly rose the ranks to Assistant Production Supervisor. Anxious to explore new horizons, he moved on to an ad agency in Westport. It was during this time that he began to study web design and front end development, and became aware of the overwhelming client demand for content management systems and database driven websites; leading him to WordPress.
George is not only cool, calm and collected but he is also an avid musician and enjoys playing guitar and bass in several bands and venues throughout Connecticut.