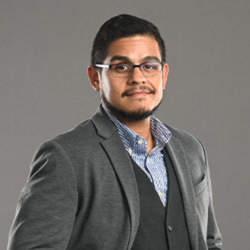 Jorge Pezo-Candelario
Director of Web Development
Director, Developer, Designer, Dad. Jorge enjoys wearing many hats in his role at Peralta Design. As PD's first employee, Jorge has loved launching interactive solutions for clients of all scales since day one.
Whether he's working with Fortune 500 household brands or small local businesses, Jorge has the same passion for taking their projects from the drawing board to deployment. Jorge cut his teeth at SCS Incorporated, a 500 Inc. Amazon company, and was on the small start-up team that transformed their 7 person shop into a thriving organization of over 100 employees.
Jorge is a lifelong gamer on both the tabletop and the TV, relishing in their challenge and narrative; proclaiming himself the "King of Games." He loves spending time camping with his young family and can't get enough of watching Football and Formula One Racing.