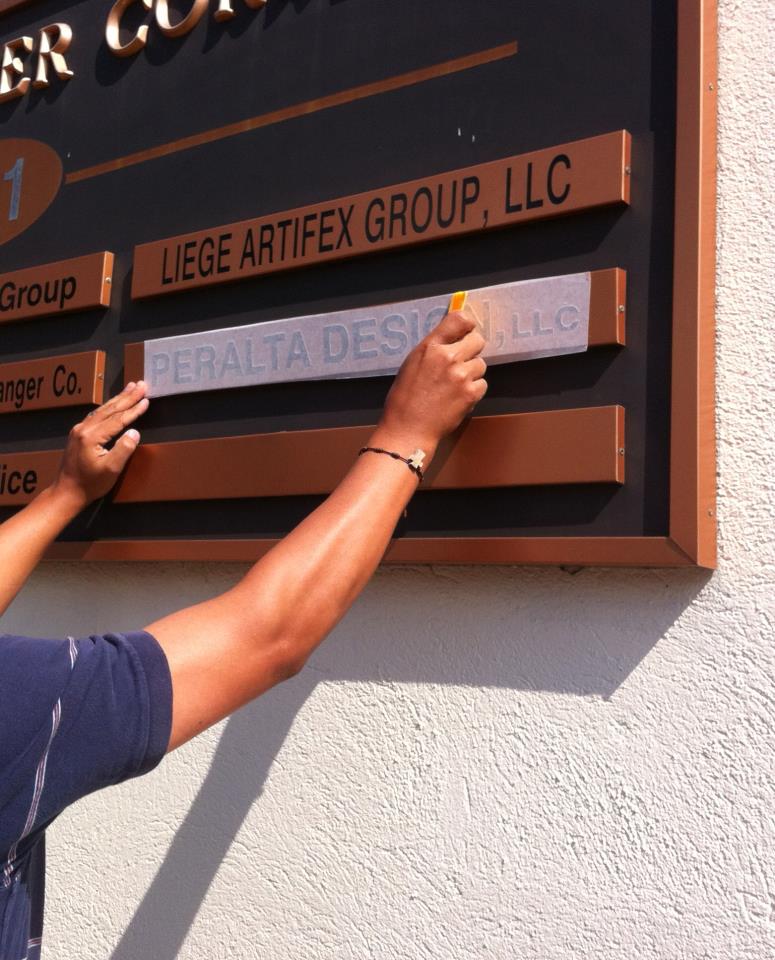 Putting the exterior signage up on the new digs. Pretty cool. 
I felt like Ponch from Chips this morning, as I did a partial 'move-in' to our new space, spending the entire morning making sure the place looked and smelled just right. I'm new to the 'diffuser' game but the convenience (and safety) of not having to light up a scented candle made me a believer.  We were scheduled to host a couple of meetings at our new office, even though we haven't officially moved in yet. Granted, the furniture isn't just right (debating whether or not to spring for a Herman Miller Aeron chair), it needed to feel just enough, like home if I was to get anything done at all today (fat chance).
Just like Officer Poncherello, I wiped off countertops, drew the blinds just right and had some ambient music playing in the background. I kept playing with the thermostat, adjusting the temperature and became familiar with the powerful vent that was blowing papers sky-high off the conference table. To give it that 'lived-in' down-home (read: clutter), I brought a couple of nick-nacks (sp?) from home – just some items that I need around me in order to get (or feel) creative.
I decided that these were the bare essentials:
• A Yosemite Sam statue (a priceline.com relic) stood guard over the water bottles I had arranged in a pyramid in the conference room corner table.
• A Marvel Comics "Galactus" Action Figure (not doll) and a Spider-man bobblehead were placed on the empty bookshelf.
• A Rubiks cube, a framed photo of a chimpanzee wearing headphones and my favorite: "Krumm" the monster who held his eyes in his hands from the 90's cartoon "Aaaaah!! Real Monsters"
Those were my essential comfort props. (Creatives understand)
Here are a couple more items that made the move from home office to real office:
• A couple of Logo Lounge books (one that I was recently published in)
• A Cutting Mat (why? Don't know, just wanted it with me)
• A mini-gorilla that lives under my computer monitor
• A framed family photo to remind me of my blessings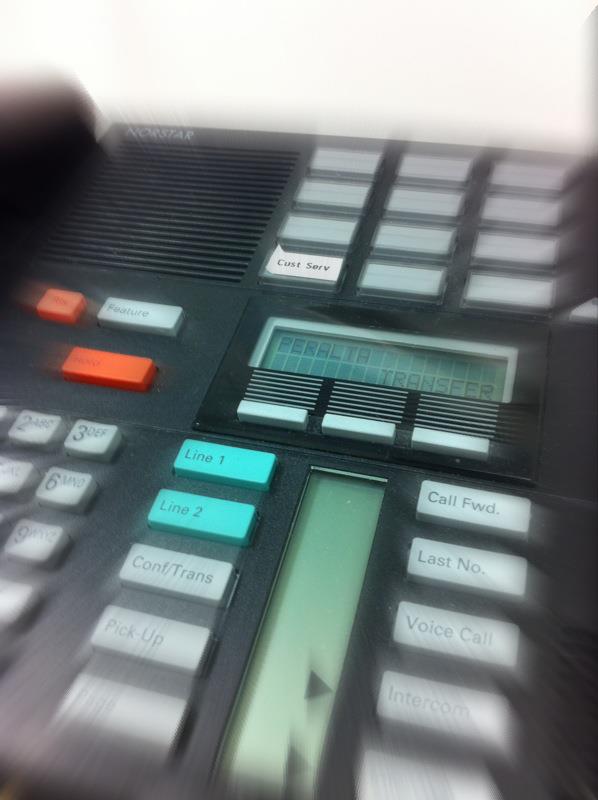 The phone has been ringing like crazy with new projects coming in. I'm not complaining!
My 12 o'Clock
This process of moving my stuff in, setting up my gigantic 27" iMac which I make portable thanks to my iLugger (www.iLugger.com) took most of the morning. At about 11:30am there was a knock on the door and my first 12noon lunch meeting arrived ½ hour early. No biggie. He set up and worked patiently in the conference room until I was ready to meet. Having a separate conference room that is still connected to my office is pretty convenient. He remained within earshot, but not so close that I couldn't zone out for a few and respond to some emails and create a couple of annoying transparent PNGs out of some vector art to satisfy a panicked client real quick.
Turns out that this good friend needed to pick my brain on how to start a new business. He wanted to know what mistakes I'd made in the past, and what I was doing right in order to get to this point in my career. How'd I go from being layed-off 4 years ago to actively looking to hire a couple of new staff members and moving into a new space? Next thing I knew, what was supposed to have been a casual lunch turned into a dry run of a Social Media workshop that I'm conducting next week in Virginia at a large convention. We chatted over soup and salads from my new "Regal Beagle" a small, homey place called Liquid Lunch (https://liquidlunchct.homestead.com/) . We spoke of branding, identity, consistency, and becoming an expert in your field. I hope he left inspired, as I have a passion for anyone trying to start their own thing and have been accused of being long-winded. I can admire someone even considering of going it at on their own, of following their dream, because it takes 'Brass Balls' as Alec Baldwin preached in Glengarry Glen Ross (favorite movie, Gladiator is #2). Above all else I encouraged him to remain positive and guaranteed him a follow up consultation should he ever need it.
My 2 o'Clock
Our big meeting was scheduled from 2pm-4pm. We expected a visit from one of our larger clients, BKFK (www.bkfk.com) an educational marketing firm based in Stamford. They have the honor of being the first clients in the brand spanking new conference room, and I just couldn't wait to write on the white board which I had installed that morning.
Jorge, our web developer/motion artist came busting through the door at about 1:30 with his tricked out PC (we're Mac guys, but we can appreciate a custom built PC Hot Rod). We needed this machine for our 2pm meeting to demonstrate the bells & whistles of a Powerpoint Plugin called "Snap". We've been tasked by BKFK to help them strategize how best to digitize an entire supplemental curriculum for a national brand over to Smartboard activities and web-based interactive games. We chose "Snap" because of its built-in Quiz functionalities which will save a considerable amount of production time.
Just like any good host, or as I'm sure Ponch used to do, I made sure that I had only the finest libations (Poland Spring Water) and only the best provisions suitable for a brainstorm design meeting of this nature: Reduced Fat Wheat Thins and Wasabi Peas. Our clients arrived, we had just enough time to pre-game and the meeting went without a hitch. Much progress was made and we developed the early chicken scratch that will eventually incubate to become wireframes and eventually full-blown micro-site based educational fun and interactive activities.
Our meeting went so well, that I had to remind everyone that I had a hard stop at 5pm to pay my accountant a visit. It's the annual trek to get the ball rolling and this year caused some considerable anxiety since we experienced the blessing of tremendous growth and expansion.
After our meeting I headed home, iLugger in trunk, ready to wash down a quick dinner (the ½ box of Goobers in the car doesn't count) and proceeded to set up my machine for the night shift. Needless to say, the day was a blur. Our phone was off the hook as usual, client emails came back and forth, and I even managed to update a client's social media pages with news that they were the lead sponsor in a European trade show. (I multi-tasked during the brainstorm meeting.)
Now, I'm looking at my "Brain", aka my black book, looking at 3 major projects that I now have to complete before end of day tomorrow: a 4-page trade show brochure, creative for a client media kit, and a Keynote presentation a client is making to a major national rechargeable battery brand.
Yes, now is the time that I'm actually going to get some work done.
All in a day's work.
Resources:
15 Best Time Management Tips
https://www.timethoughts.com/time-management.htm
————————————————-
Ramon has over 19 years of experience in award-winning, market-proven, print collateral, marketing material, iphone/ipad app and website design specializing in corporate identity and branding. Ramon's passion for entrepreneurial design was borne out of 10 years as Creative Director for Jay Walker at Walker Digital, the Stamford based idea laboratory and business incubator holding over 300 US Patents. Ramon served as Senior Art Director on the start-up launch team behind Priceline.com, a Walker company and invention. Most recently, Ramon's logo and identity work was selected to be published in "Typography and Enclosures" the fourth book in the Master Library series by LogoLounge.
Need help with your brand identity or want to overhaul your existing brand? Contact:ramon@peraltadesign.com
Follow Ramon on Twitter @Peralta_Design