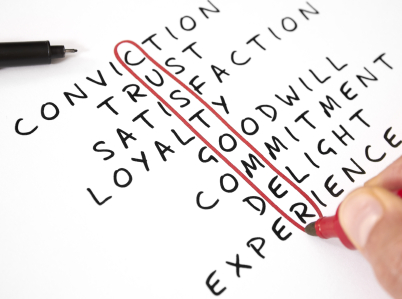 Be Professional and Watch Your Business Grow
"The mark of a true professional is giving more than you get."
What exactly does it mean to be "professional"? I've lost count how many new clients we've gained over the years simply because their previous service providers were unreliable, inconsistent, or simply could not deliver on time. Recently, we had a new client literally walk in and hand us all maintenance responsibility to his website. This client was so upset with his previous web team not making updates in a timely fashion that he just could not wait to change all of his passwords fast enough. Our first request from him was to change an image that literally took 10 minutes to update. Client was happy. Contract was signed. Did I wonder what the backstory was? Yes. Did I wonder if we had just inherited the client from hell? Admittedly, yes, the thought did cross my mind. Its hard to imagine that you could actually grow your business just by being professional, but its one of the most common sense attributes that most service providers in the advertising and marketing world seem to forget.
Artists, designers and web developers alike are often stereotyped as weird or aloof. Artists are often time ego-maniac divas. Web developers in particular are often not the most people-friendly type of guys on the planet. Programmers are even less apt to initiate a conversation. They just want to be left alone to code. As an entrepreneur of any kind,  you need to work on your people skills and be professional if you want to be successful.
For me, being Professional means:
• Be Honest & Trustworthy
• When you are wrong promptly admit it
• Deliver your work on time
• If you will be delayed, let people know as soon as possible
• Listen to others
• Accept constructive criticism
• Meeting deadlines as promised
• Keep your promises
• Don't forget meeting times or appointments
• Write follow-up emails
• Be polite and well spoken
• Do not take your clients for granted
• Nurture the relationship with good service
• Underpromise / Over-deliver
• Take responsibility for your work
• Put your heart and soul into your work
• Do the best possible work
• Encourage others to do their best
• Lead by example
Sounds like common sense, but sadly the reality is that many people don't value these attributes and wonder why their business suffers. Yes its important to reinvent yourself if you notice trends in your industry are changing. Yes its important to continue to educate yourself and surround yourself with knowledgeable staff as you build your team.  Above all else, be Professional.
If you can remain professional at all times, you'll be amazed at what a positive impact it will not only have on your business but on everyone else around you as well.
——————————————————————————————
Ramon has over 19 years of experience in award-winning, market-proven, print collateral, marketing material, iphone/ipad app and website design specializing in corporate identity and branding. Ramon's passion for entrepreneurial design was borne out of 10 years as Creative Director for Jay Walker at Walker Digital, the Stamford based idea laboratory and business incubator holding over 300 US Patents. Ramon served as Senior Art Director on the start-up launch team behind Priceline.com, a Walker company and invention. Most recently, Ramon's logo and identity work was selected to be published in "Typography and Enclosures" the fourth book in the Master Library series by LogoLounge.
Need help with your brand identity or want to overhaul your existing brand? Contact:ramon@peraltadesign.com
Follow Ramon on Twitter @Peralta_Design