"One of the best strategies you can apply to your business is learning how small, incremental improvements in your core processes can result in geometric growth for the entire company." – Tony Robbins
Often times internal teams at companies can get tunnel vision and become stuck in doing things 'the way they've always done them' which does not exactly foster a culture of innovation and creativity. Sales numbers can plateau as well if there is not a unique selling proposition or a better way to position a product or service.
Employees can often dread professional development because it implies boring slide shows, flow charts and stale bagels. At Peralta Design, we feel that bringing experts in to provide us insights and strategies that will help us better serve our clients is time well spent. If those experts also happen to be clients, it's even better. It's a win-win; they learn more about us and why they chose to hire us for their creative branding and web needs, but we also get to experience their services first hand, and in a real-world practical manner.
This week, we were blessed with a visit by none other than best-selling author and Giraffe CFO himself, Chris Jarvis who was nearby in NYC on business. Our preferred venue for these interactive workshops is over lunch in our Big Red conference room and the format is casual and personal. Each member of our staff 'opens up' and participates candidly, openly and honestly.
So what exactly is a Giraffe CFO? In it's simplest definition, it can be described as being able to look at companies or organizations from a higher perspective. Chris Jarvis, and his firm Jarvis Tower, help business owners, family offices and nonprofit organizations find creative solutions to their most complicated financial problems. We recently branded and launched websites for both Texas-based Jarvis Tower and ChrisJarvis.net so we were excited to have Chris finally visit our Connecticut location.
Jorge Pezo-Candelario, Peralta Design's Director of Web Development described Chris Jarvis' workshop as "the single-most interactive and informative professional development workshop I have attended at Peralta Design in 8 years."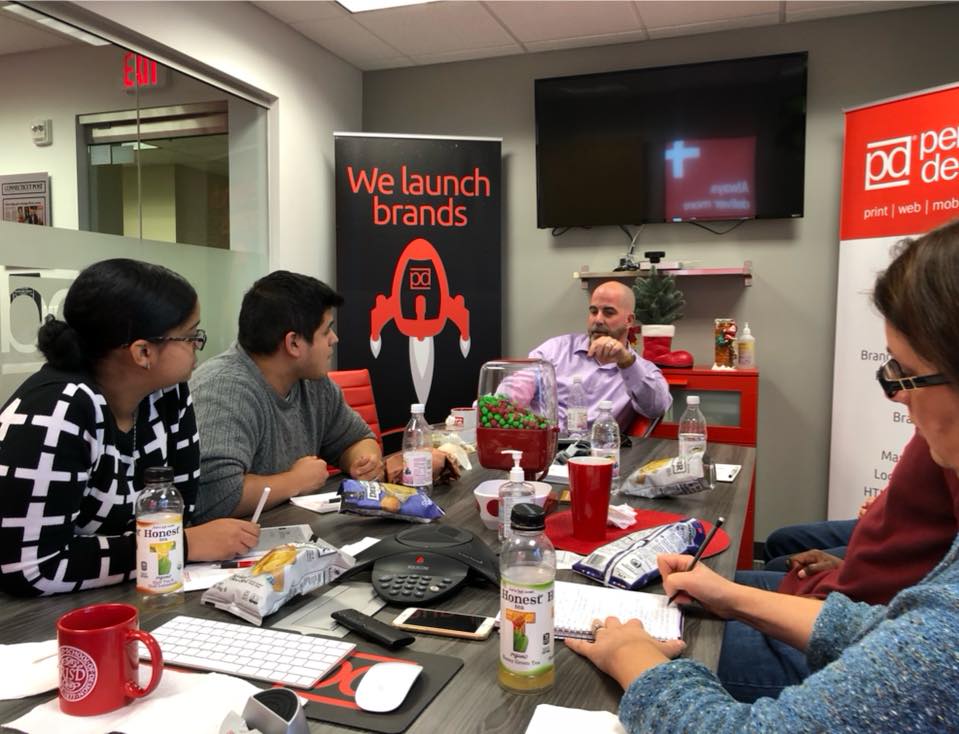 Chris took us through a series of thought provoking questions and although we appeared to not have a real agenda, we quickly started identifying challenges and more importantly discussing solutions and tactics that we can employ. By the time the 2.5 hour session was over, we all had plenty of homework to do. As a creative agency, we're often dealing with clients that have identified a need for better marketing, are struggling with consistent messaging or are functioning without a modern, responsive website. Those are the easy ones. But what about the clients that don't know what they need? What happens when the proposal is provided to the client and its handed over to someone who doesn't see the value in new creative or in a marketing strategy? How do you provide a concrete return that will convert your service-based company from a liability to an asset for clients?
"If the services you're providing are just a line-item cost, and not making them money, eventually the bean counters will find a way to remove you from the equation." – Chris Jarvis
Our big takeaway was that we provide "Creative Solutions with Quantifiable Results." Our creative branding and web development services have real, quantifiable results.
Chris has a new book available for pre-order at Amazon. The foreword was written by the one and only Jack Canfield (of Chicken Soup for the Soul and the Success Principles.) It is sure to be a best seller. Order it today https://www.amazon.com/Secrets-Leveraging-Success-Entrepreneurs-Advisors/dp/1682614522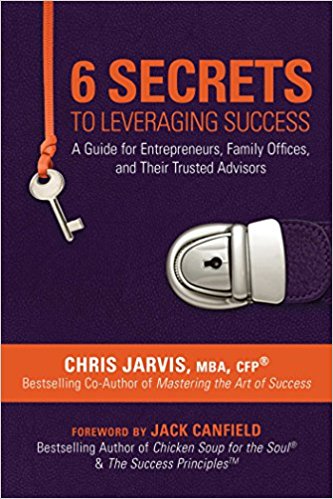 We don't get a real-life giraffe in the office everyday, so having spent some time with Chris Jarvis was a real treat. We now have a road map of strategies to implement that will take us well into 2018 and beyond. And yes, like a real Giraffe, Chris didn't join us by eating a sandwich. He had a salad.
Resources:
For more information about Jarvis Tower visit: www.JarvisTower.com
Exclusive: Jack Canfield interviews Chris Jarvis – www.ChrisJarvis.net
Want Chris to energize your company, team or sales force? Visit: https://jarvistower.com/contact-us/
Ramon has over 20 years of experience in award-winning, market-proven, print collateral, marketing material, iphone/ipad app and website design specializing in corporate identity and branding. Ramon's passion for entrepreneurial design was borne out of 10 years as Creative Director for Jay Walker at Walker Digital, the Stamford based idea laboratory and business incubator holding over 400 US Patents. Ramon served as Senior Art Director on the start-up launch team behind Priceline.com, a Walker company and invention.
Peralta Design is an award winning, think tank and digital creative house (with offices in Shelton, CT and Palm Coast, FL). We not only help monetize ideas and determine what the MVP, the Minimal Viable Product is for you, but we also handle everything from logo design and branding, to recommending technology, to building custom web applications and websites. We also develop mobile apps and create promotional videos. As I also mentioned, we work with entrepreneurs, startups and companies (large and small) like yours. We Launch Brands!®
Need help with your brand identity or want to overhaul your existing brand? Need a responsive cutting edge web development project completed? Contact: ramon@peraltadesign.com 
Tell us about your next project at: https://www.peraltadesign.com/launchmybrand
Follow Ramon on Twitter @Peralta_Design