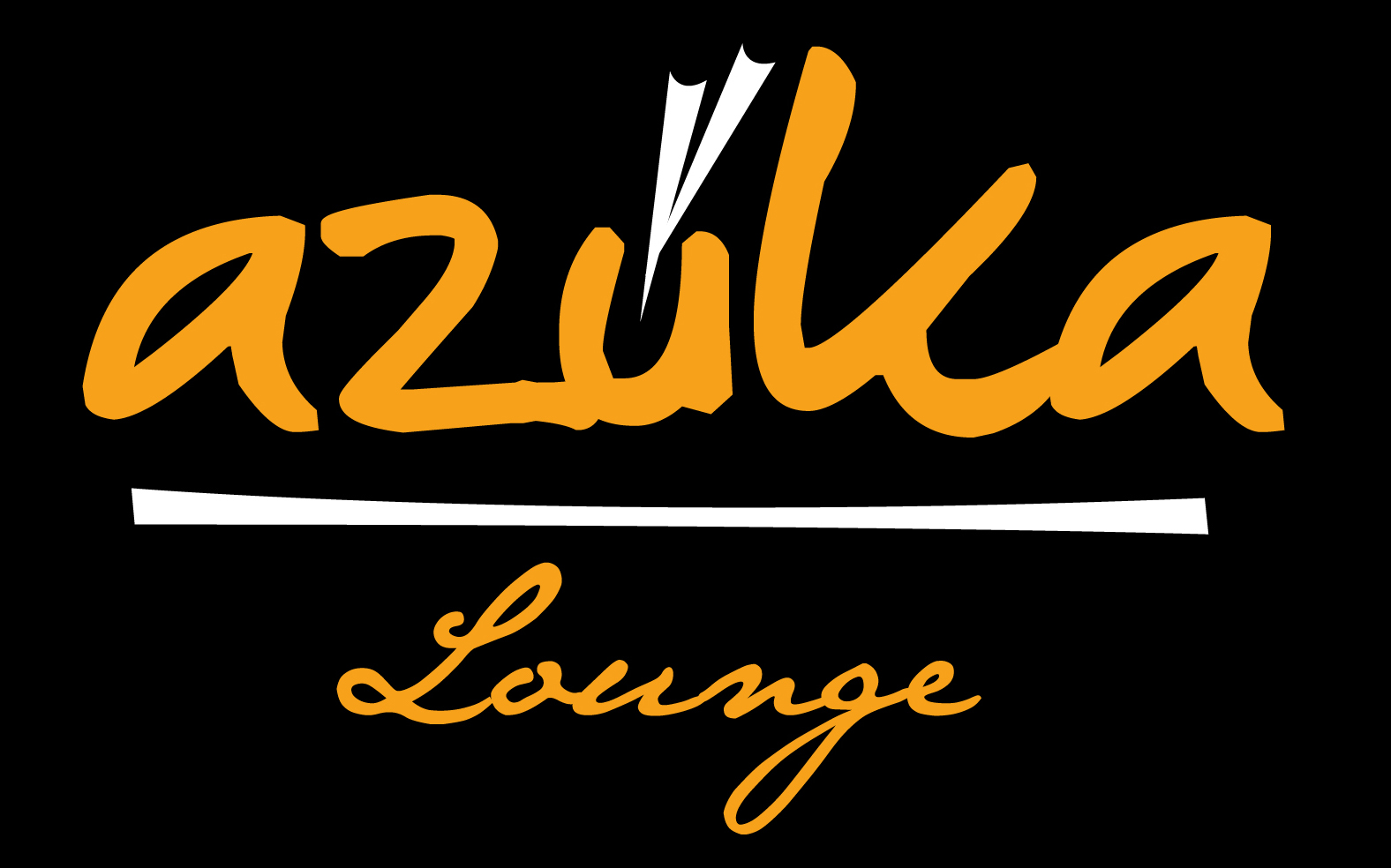 Brand Naming and Corporate Identity
Brand naming is one of those services we wish we had the opportunity to do more of at Peralta Design. Logo design is still one of my favorite things to do because we do it well and do it often as part of a larger Corporate Identity Package which includes the logo design, the brand style guide which outlines proper logo usage, color palettes and fonts, as well as the stationery (letterhead & envelope) and powerpoint templates. The typical startup client that seeks our services already has a name or an existing logo for their company and we either brand them or rebrand them based on that name, their clientele and their targeted demographic.
Recently, we had an opportunity to not only develop a complete identity package for a brand new Rhode-Island based restaurant, but we were tasked with naming it. Cool!
Here is how we went about naming it along with some of our considerations. This process may help you in trying to select a name for your new business.
1. Brand Research
The concept behind this new business venture was unique: It was going to be a Sushi and tapas restaurant that featured live entertainment. "Fusion" was an understatement. We needed something that would appeal to Sushi connoisseurs and tapas aficionados and fans of music alike. The name needed to evoke a Japanese and Spanish feel while also have a musical / lounge tie-in. We did lots of research online visiting many different types of restaurants and even found interior shots of some high-end establishments. The place needed to be upscale, chic and modern. The name needed to reflect that as well, as they were going after a more refined audience and they also needed to sell the Planning and Zoning board. This needed to past muster with the city, as they were applying for a Live Entertainment Luster.
No pressure.
2. Ideation & Concept Development
We began by looking at the names of provinces in Spain as well as looking through the list of prefectures (provinces/states) in Japan. There are 47 of them. Some of them you know, such as Tokyo, Hiroshima, and Nagasaki. We tried pairing Japanese provinces with Spanish Provinces, we came up with food names and we also brainstormed names that sounded alike. When brainstorming, no answer is a wrong answer. We compiled a long list of potential names. It was important to come up with a name that was easy to say, short and catchy. It had to have a nice ring to it.
3. URL/Domain Name Availability
This is a very important steps. In fact, this can very well drive what will be the name of your company. In an effort to narrow down the names that we would submit to the client, we went down our list of the top names we could come up with and searched for them as URLs through GoDaddy.com's website. If it wasn't available as a ".com" and wasn't available with a minor change (dash, or "the"), then it was scratched from the list. The names that remained on the list were only those that we could buy a URL for. We weren't interested in spending a gazillion dollars for a URL that someone was squatting on, so we skipped those as well. We had a good list of names to present to the client.
4. Trademark Search
Once the names are narrowed down, and the client has chosen one, the first thing we do is buy the URL. Now at least you know you own the website and can start the creative process. At this point, we recommend a trademark search by a law firm that can make sure that you are not infringing upon any other business with the name your client or you have chosen. Its worth the money. We are currently trademarking our own logo and its especially a good idea to do a trademark search early on , before you have too much invested in creative and in the company.
5. Picking a Winner – Does your name tell a story?
The winning name was Azuka Lounge. The reasons behind it go like this:
1. There was a URL available: AzukaLounge.com
2. It was trademarkable
3. "Azucar" means sugar in Spanish (so we get the Spanish/food reference)
4. Celia Cruz, the legendary Cuban salsa singer would always yell her signature 'battle-cry' , "Azucar!" in her songs (so we get the music reference
5. When spelled without the "R", "Azuka" looks like it could be a Japanese prefecture. Actually the word "Asuka" is a village located in Takaichi District, Nara, Japan.We combined the two words to create "Azuka" and the "Azuka Lounge" was born.
6. Logo Design & Corporate Identity
This process is its own animal, and deserves its own blog, especially considering how long this step could take with multiple rounds of revisions and tweaks. Once we reached a design (in black and white) that the client liked, we proceeded to develop a color palette, selecting PMS (Pantone matching system) colors and fonts. Once we arrive at the proper color palette, we begin to develop the rest of the brand identity. In the case of Azuka Lounge, we developed the Powerpoint Template for the presentation that the client would be pitching to the zoning board. We also designed stationery.
Here's what the final logo looked like.
It was a fun, exciting project and we can do it for your business as well!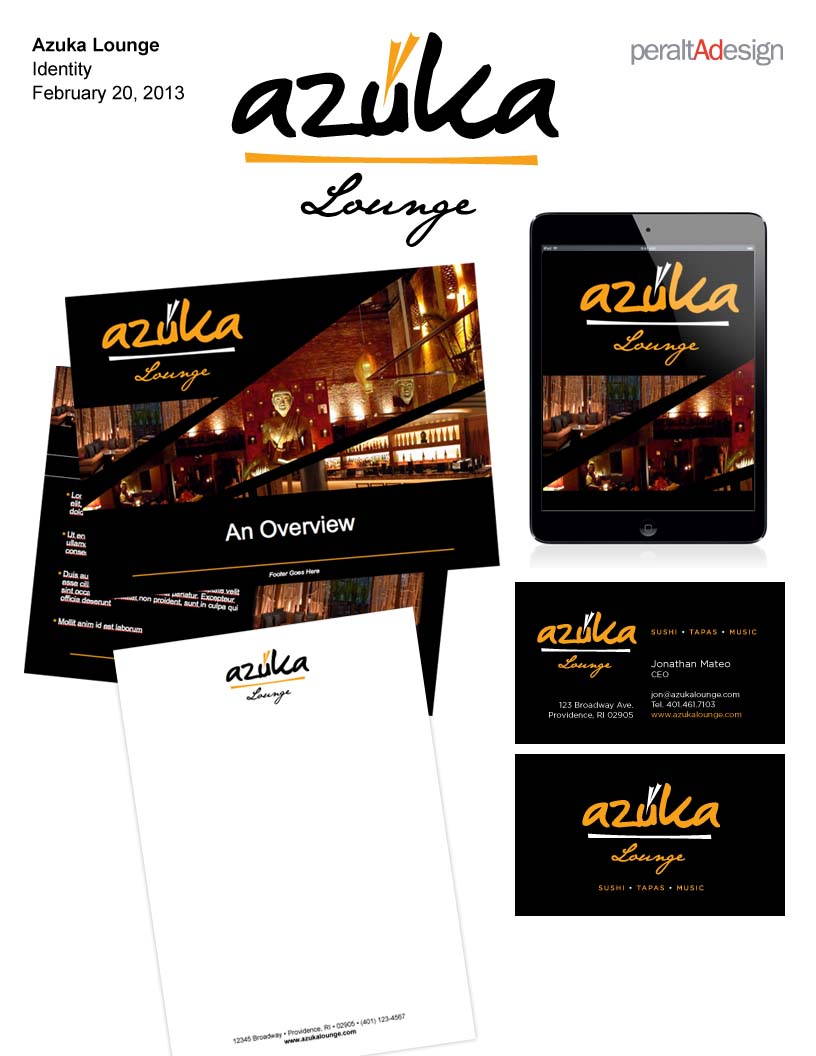 Ramon has over 20 years of experience in award-winning, market-proven, print collateral, marketing material, iphone/ipad app and website design specializing in corporate identity and branding. Ramon's passion for entrepreneurial design was borne out of 10 years as Creative Director for Jay Walker at Walker Digital, the Stamford based idea laboratory and business incubator holding over 300 US Patents. Ramon served as Senior Art Director on the start-up launch team behind Priceline.com, a Walker company and invention. Most recently, Ramon's logo and identity work was selected to be published in "Typography and Enclosures" the fourth book in the Master Library series by LogoLounge.
Need help with your brand identity or want to overhaul your existing brand? Contact: ramon@peraltadesign.com
Follow Ramon on Twitter @Peralta_Design