About 8 years ago, I remember driving down to the local Blockbuster store (remember them?) with 2 overdue movies and 2 overdue games. I was letting the anxiety of what the late fees were going to be, get the best of me. I walked into the store, ready to face the pimply-faced 17 year old that was working behind the counter. I didn't just want to drop the movies into the dropslot – I need to know what the damage was going to be. Richie Cunningham looks up my name and says, "Mr. Peralta, since you are a Gold Rewards Member, I'm going to hook you up. You're all set. Have a nice day." In disbelief, the best comeback I had was, "Thanks."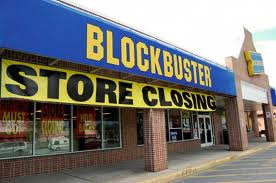 Remember this place?
Now, most people (who aren't wired like me) would have taken this to be a good experience, or felt fortunate or even blessed. No. I felt even more furious at the whole entire Blockbuster concept. I said to myself "I'm a grown man, and I don't need to have my life hang in the balance as to whether or not Doug Funny is going to "hook me up". I've had it with Blockbuster and their negative late-fee based business model… I'm switching to NetFlix!"
Well, exactly how I ended up feeling about NetFlix after years as a happy customer is the topic of another blog. I bring up Blockbuster because I experienced a similar situation with the Regus Business Center, a warm and fuzzy place that my agency has called home for the last year. I'll explain how the 'awakening' I had at Blockbuster was similar to the 'awakening' I had at Regus. I seem to have outgrown them as well. Its time for a change. And its time for growth.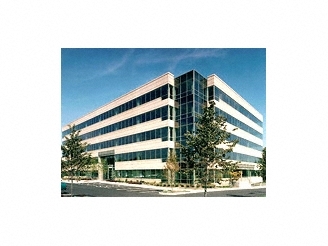 Our current home at the Regus Business Center
Last year about this time, I began leasing pre-furnished office space at the local Regus Business center, literally just 2 miles up the road as primarily a way to expand my business and project a more professional image.  I had acquired and secured several high-end retainer clients and the home office wasn't cutting it anymore. Sure, it's great rolling out of bed and making the long commute down to my home office complete with snoring dog and flat screen, but when it comes to impressing a large client, or even pitching or presenting, or collaborating with a large team, nothing beats a nice conference room and large white board. The Regus center had a very cool business lounge where you can entertain clients and make a great first impression. For awhile, working from home and meeting with freelancers and clients at the  local coffee shop did the trick. I even have a freelance station set up in my home office (I just have to make sure the bathroom is clean). The problem I found is that I can't exactly set up an easel or setup a projector at Starbucks. Hence, I made the plunge, signed a contract, feeling that Regus had the best of both worlds: I wasn't locking into a large monthly lease, and I wouldn't need to buy furniture. Professional 'virtual' image at a budget price.  It was all there, ready to go. Throw in two nice, soft-voiced receptionists and you have a professional image, ready to go at a reasonable monthly rate.
Regus did the trick, and a host of other benefits of Regus Business Centers can be found here:
https://virtualoffices.regus.com/benefits/default.htm
The Grand Opening 2011
The month we moved into Regus, we celebrated with staff, friends, family and clients over sandwich wraps and chocolate chip cookies. We had a grand opening. We had retractable banners made. We even had a video shoot and created a movie-montage of our services and played it during the opening reception. For the past year, working from home several days a week, and working at the Regus business center a couple days a week has been great. My flexible freelance staff and interns even come in on those days so it feels like an agency. Additionally my client's first impression is always great when they call me because they get greeted by a sweet voice, instead of my raspy voice (does anyone like their own voice?) I'm even guilty of calling them myself once in awhile to make sure they're pronouncing my name right.
So what changed? Why am I ready to grow, to move on to a bigger space? Well, it just so happened that a friend of mine had recently dissolved a business a few months back and didn't need all the square footage… as they say when opportunity knocks…
The Blockbuster Analogy
Well just last week, I looked at my Regus reservation and noticed that we had been moved into the conference room, which I refer to as the War Room because it has a large conference table and enough chairs for a baseball team, and not by choice. My first reaction was to confirm that it wasn't a mistake, and that I wouldn't be charged extra for it. "No charge, no mistake, we just didn't have room for you this week…" OK…
This is where the Blockbuster reference comes in…
Just like the young kid at Blockbuster 'hooked' me up for late fees, I was supposed to feel as though I was being 'hooked up' by Regus for getting to work out of the Conference Room. The thing with Regus is that everything is a line item: you book your office space, and you book your conference room usage. The conference room usage is not included but is actually an additional charge. The fact is that they office I typically lease from them on a weekly basis, was not available that day so they moved us into the conference room. Again, I should be happy right?
Well, thing is that the opportunity of moving my design company into its office space was just brewing in the back of my mind.  Was it right? Was it necessary? I wasn't sure if I was going to make the leap, I was afraid of change to be honest.  But working out of the conference room this week pretty much helped me make up my mind. My agency had outgrown the Regus Business Center. It was fun while it lasted. It was time to move on… but the seeds of doubt were beginning to sprout.
So I took a look at the situation and here's what I thought about:
Benefits of Regus:
Low monthly lease
Free coffee
Receptionist
Pre-furnished office
Pre-furnished conference room
Cons of Regus:
Don't have my own key
Need to book office space in advance
Not open 24 hours
Submarine duty in small office with full team
Can't bring my dog
Can't put any signage out front
More like a Timeshare set up
Benefits of my own "legit" office space:
Have my own key
Can put up signage outside office building and in lobby
My printer is in the same building (downstairs)
Larger space, and can fit full team comfortably
Separate private entrance
Separate private conference room
Near boat marina, gym, and Dunkin Donuts
Close to home, could ride bike to work.
Cons of having my own office space:
Have to furnish it myself
Have to worry about security
Have to buy my own coffee machine
These are all kind of lame excuses aren't they?
I can't think  of anything else.
The evolution of my business:
1. Work from home & meet clients at Starbucks
2. Work from Regus Business Center and meet clients in fancy conference room
3. Work from home when I want to,  but also have our own Agency Office Space complete with conference room and signage and room for a full staff – and a foozball table.
4. Next step would be ownership. Owning a commercial space would be great.
Don't get me wrong,  I LOVE working from home. My home office is better than most people's job offices. Its got everything I need, and I don't have to commute. The issue for me is that although I may often still work from home, it is nice to get out and COLLABORATE with others. Talking to my dog only goes so far.
The other issue is that one of FEAR. The FEAR of CHANGE. The FEAR of GROWTH.  I've heard someone say that fear is False Evidence Appearing Real. A lot of the anxiety that I'm feeling is just a case of the "What-Ifs". What if I fail? What if I can't pay the rent? What if the phone stops ringing?" All of these thoughts are crippling if you let them rent space in your head for too long.
Catherine Pratt says " The thought of making a life change can be so intimidating that even though you want to be the master of your own destiny you'll end up doing nothing or settling for less than you deserve simply because you are so afraid of that change."
This move for me, my family and my company is a big change. But it feels right. It's the next logical step in the evolution of taking my design company to new heights, growing the business, expanding our services, expanding our client base and being a part of a vibrant community, both globally and locally.
I'm excited to see our firm name, "Peralta Design" outside on the building directory. That's something I've dreamed about for a long time.
Here's something you may find helpful regarding making Life Changes or any change in your life.
Life Change – 6 Reasons Why We're Afraid to Change
 https://www.life-with-confidence.com/life-change.html
———-
Ramon has over 19 years of experience in award-winning, market-proven, print collateral, marketing material, iphone/ipad app and website design specializing in corporate identity and branding. Ramon's passion for entrepreneurial design was borne out of 10 years as Creative Director for Jay Walker at Walker Digital, the Stamford based idea laboratory and business incubator holding over 300 US Patents. Ramon served as Senior Art Director on the start-up launch team behind Priceline.com, a Walker company and invention. Most recently, Ramon's logo and identity work was selected to be published in "Typography and Enclosures" the fourth book in the Master Library series by LogoLounge.
Need help with your brand identity or want to overhaul your existing brand? Contact:ramon@peraltadesign.com
Follow Ramon on Twitter @Peralta_Design
Do you currently work from home? Have you ever used the Regus Business Center or Virtual Office Space? Did you ever regret expanding your business? How have you dealt with FEAR or DOUBT in your professional life?
I would love to hear from you!