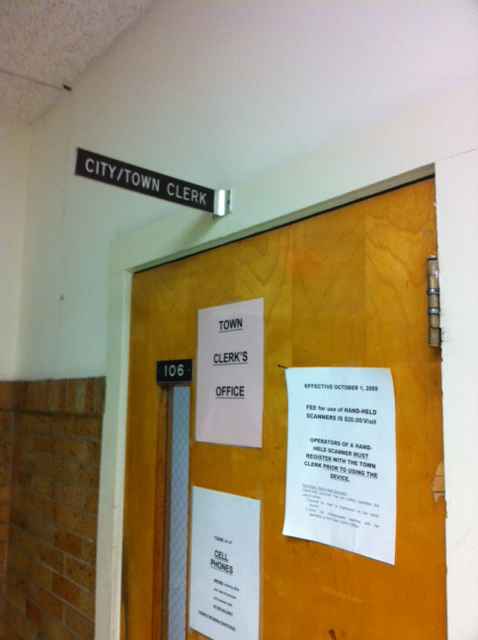 Town Clerk's Office
Last week I blogged about how excited I was about moving my design company into a new, larger office space. Now that I've decided to take my company to the next level, I've discovered many hidden hoops to jump through and the costs associated with them.
The evolution of my business, has gone from:
Working full-time and running my business part-time
Running my business full-time from home
Running my business full-time from home and a virtual Regus office
Running my business full-time from storefront office space
Office Space (not the movie)
This past week has been a whirlwind of activity and a slow-bleed of miscellaneous expenses. In addition to launching a new, exciting project for a well-known board game company and closing a few moderately-sized web projects, I have been a nervous wreck about moving into the new space. It sounds ridiculous, but just how exactly my new creative space will look has brought me much anxiety, not to mention all the running around I've had to do with Town Hall and my insurance agent. While doing the necessary paperwork to move in, I've also been constantly thinking about the layout of the space, and what type of U-Desk I will have and how it will work with the windows in the office.  So far this is what I've managed to move into the space:
Conference Room Table & 6 chairs
Two L-Shaped Desks for the web developers/freelancers
Two Large White Boards
3 sets of blinds for the windows
For those thinking of branching out on their own, making the move from the home office to the 'big-time' – I just want you to consider that fun-with-furniture aside, there are many steps and hoops to jump through, as well as expenses that will come along the way. Yesterday, I met with my new landlord and he required that I take care of a few things before I can officially move in. Here are some of the things I had to do and pay for:
1. Register with the Town Planning and Zoning Department
Basically, this consisted of me filling out a form outlining exactly how I planned on using this commercial space. I had to spell out what type of business I ran (Advertising Agency / Design Company) and what my request for outside signage was going to be. In this case I went with vinyl-die cut letters that were going onto a pre-existing sign holder on the office building's façade. When I'm ready to do a more dramatic or larger sign, I will have to visit these guys again.
Total cost here: $30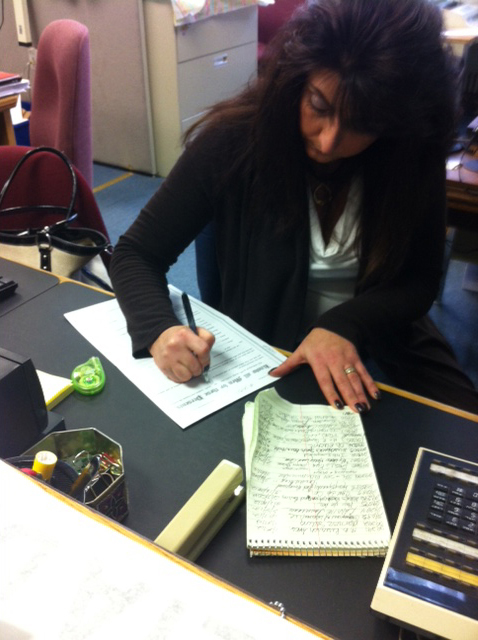 Friendly Town Clerk registering my Trade Name
2. Register my Trade Name with the Town Clerk
Hard to believe that after living in this town for 10 years, I had not done this. I did register my trade name back in Bridgeport, but this was something that I should have taken care of awhile ago. What happens here is that you fill out a very official, historical looking document that begins, "Know all Men by these Presents…" in old-english font with your Trade Name. In this case, "Peralta Design". My official LLC is Peralta Illustration & Design, but I want to protect my trade name to make sure that no one else in this town can open up a business with my same name. Good idea.
Total cost here: $12
3. Certificate of Insurance
Working from a home-office, I never had to consider liability insurance. I already carry a pretty robust policy, including a 1-million dollar umbrella policy to prevent any 'slip & fall' guys from putting me out of house and home. After meeting with my new landlord, a certificate of insurance was the first thing he wanted to see before I could occupy the space. This insurance is actually something I really wanted to have because not only does it protect me from clients or employees getting hurt and suing me for medical damages, but it also covers all of my computer equipment and other items that I may store in the office, from fire, theft or Ack! Acts of Terrorism (yes Terrorism is a mandatory line item on the policy).
Total cost here: $800
4. Workers' Compensation Insurance
Here was something else I didn't think I needed. Until now. I already have a pretty decent Disability Policy, which covers me if I get injured or can't move a mouse or type anymore. But this new policy is to protect me from an employee getting hurt and then suing the state or me for his injuries/ability to collect a salary.  This works out to be pennies on the dollar, and worth every cent as the company grows and expands. For each new freelancer or employee that works with my company, I will have to expand my coverage.
Total cost here: $300
I didn't need any of these types of insurance policies or forms filled out when I signed up with the Regus Business Center. I guess since it was a pre-furnished office that I was only 'renting' per use, those liabilities of what could happen while I was there was apparently covered by Regus. Now that I'm moving into a new space, those become my responsibility.
I still don't know what type of desk I'm going to end up getting, and whether or not I want to box myself up in a cube, or put up a privacy wall.  It's part of the fun I guess. Next week, I'm meeting with my insurance agent again to see what other types of coverage I may or may not need to protect myself and my company and I take it to the next level. Aside from all these expenses that are part of growing a business, I'm really having a blast preparing for it all. The more I think about it, and with each step forward that I take, the more it feels like it's the right thing to do.
Resources:
Start Your Own Business: 50 Things You'll Need to Do
https://www.nolo.com/legal-encyclopedia/start-own-business-50-things-30077.html
———————————————————————————————————————-
Ramon has over 19 years of experience in award-winning, market-proven, print collateral, marketing material, iphone/ipad app and website design specializing in corporate identity and branding. Ramon's passion for entrepreneurial design was borne out of 10 years as Creative Director for Jay Walker at Walker Digital, the Stamford based idea laboratory and business incubator holding over 300 US Patents. Ramon served as Senior Art Director on the start-up launch team behind Priceline.com, a Walker company and invention. Most recently, Ramon's logo and identity work was selected to be published in "Typography and Enclosures" the fourth book in the Master Library series by LogoLounge.
Need help with your brand identity or want to overhaul your existing brand? Contact:ramon@peraltadesign.com
Follow Ramon on Twitter @Peralta_Design