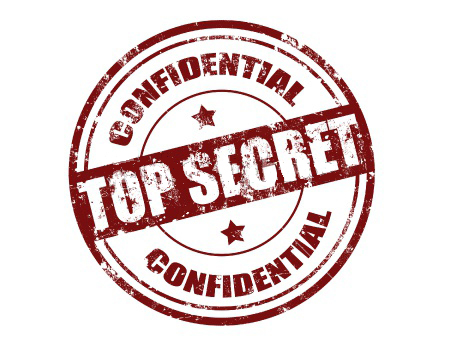 OK, I'll admit it, I'm a talker. I love to share positive news and have been called a 'shameless self-promoter' (actually I've been called a lot worse). Whenever we get our hands a huge name-brand account, or get to meet a famous person, my first reaction is to want to 'put it on blast' and let everyone know the great news. Resisting the urge to 'run tell dat' or to 'sing it on the mountain top' is not easy for a guy like me.
Unfortunately, not everyone wants everyone to know what everyone's involvement was or is on a particular project. In the design world, as in many other businesses where contracts are drawn up, non-compete clauses, and non-disclosure agreements are par for the course, there are times where clients request that you keep your lips sealed. Particularly in cases where when I or my firm is being subcontracted by a client or firm who needs backup or additional manpower. We have to respect that. Relationships can be very tricky to maintain and with the internet, blogs, articles and tweets can go viral. If a client requests that you use their company email (and not your own) to communicate with their client, you do that. If a client requests that you not announce on social media that you just worked on project that is one of their 'anchor' clients, you respect that as well. Of course, it goes without saying, that you shouldn't communicate directly with their clients unless you were specifically asked to. (but that's a different blog). I know what you're thinking… Sharing is caring right? Well, not always.
If you do care and value your relationship with your clients and want to be hired again as a 'secret weapon' or as a ghost designer, ghost writer, ghost consultant, etc. then you will do as you are told and keep it under wraps. Remember, "Loose Lips Sink Ships"? Well it applies in the crazy competitive world of design companies and ad agencies as well. Your client needs to trust you with their clients as well as their information and project details.
Recently, I penned a blog post about the time I met Mr. Warren Buffett at a Grand Finale Event through one of my clients. Though the event itself drew national attention, the idea of what my personal take on that experience being out on the web just didn't' feel right to my client as it may have taken away some of the spotlight and/or ruffled some feathers with the folks that hired them in the first place. Though they offered to seek permission for me, I offered not to publish it and saved them the trouble of asking. Even though I pride myself as the shameless self-promoter, I have the grace and business etiquette to recognize that it truly isn't always about me.
Another example of stepping aside and abiding by a client's wish to zip the lip, was a recent opportunity we had to design a line of t-shirts for a national 'large-mens' retail outlet chain. We were hired to supplement a vendor's cache of design concepts, but were asked not to spread the word that we had landed the project because it could imply that we had direct contact with the retailer, which we didn't. Before I blasted social media with the great news that we were working on a very cool t-shirt project, I reached out to my client to see if it was OK. They kindly asked if we would keep it under wraps and we did just that. No harm, no foul.
Whats the Point?
The whole point of announcing what exciting new projects we have landed is to continuously position ourselves as professionals and as being good at what we do, implying that if Client XX considered us worthy to produce their materials, that we must know what we are doing. The point of leveraging the client's name brand recognition against our own is to further legitimize our business by the level of our clientele. The whole point of that is to hopefully get more clients. BUT if we violate our CURRENT client's wishes or violate the NDA (Non-Disclosure Agreement) by promoting who or what the project is for our own benefit, then we will be shooting ourselves in the foot. You never want to lose a current client for the sake of hoping to land another one soon. Not good for relationship building. Not good for trust. All good relationships are built on TRUST, and once you've lost it, its very difficult to get back.
Believe me, as long as you keep doing great work, there will be plenty of opportunity to "Go tell it on the mountain". In the right circles, the quality of your work and your work ethic will always speak for itself – and lead to the next big project.
Resources:
Should You Sign a Non-Disclosure Agreement?
https://money.usnews.com/money/blogs/outside-voices-careers/2012/03/29/should-you-sign-a-non-disclosure-agreement
6 Tips to Build Client Trust
https://www.wahm.com/articles/6-tips-to-build-client-trust.html
——————————————————————————————————-
Ramon has over 19 years of experience in award-winning, market-proven, print collateral, marketing material, iphone/ipad app and website design specializing in corporate identity and branding. Ramon's passion for entrepreneurial design was borne out of 10 years as Creative Director for Jay Walker at Walker Digital, the Stamford based idea laboratory and business incubator holding over 300 US Patents. Ramon served as Senior Art Director on the start-up launch team behind Priceline.com, a Walker company and invention. Most recently, Ramon's logo and identity work was selected to be published in "Typography and Enclosures" the fourth book in the Master Library series by LogoLounge.
Need help with your brand identity or want to overhaul your existing brand? Contact: ramon@peraltadesign.com
Follow Ramon on Twitter @Peralta_Design