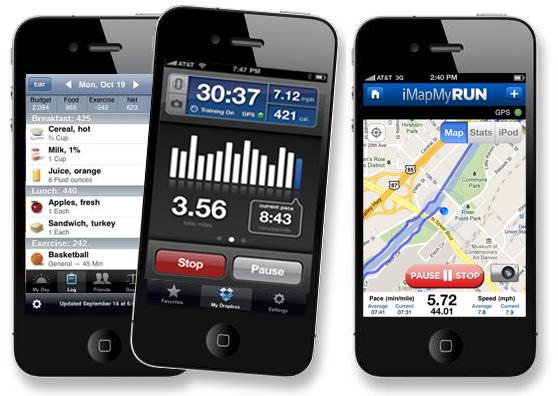 "Ever notice that when you exercise in the morning, you feel more alert and productive all day? It's no coincidence — a morning workout has several advantages for your body and your mind. First, exercise jump-starts your metabolism, and keeps you burning calories at a higher rate all day."  – Beth W. Orenstein
Everyone is super-busy these days, even when they are not actually being productive. But in this too-busy-to-exercise world we live in, there are ways to effectively harness the power of our smart phones to help us be just a bit more physically active and healthy. Too many of us are literally glued to our smartphones and glued to our desks. My favorites are the self-employed or entrepreneurs who claim freedom and flexible work schedule as their #1 perk who STILL claim to be too busy to work out. Funny how we do manage to find a few (or more) minutes (hours) to update our Facebook and Twitter, yet we have no problem finding excuses for not exercising.  I know a few folks who would rather take a daily blood pressure pill or go up a wardrobe size than actually make the time to burn some calories. Yes, I said it: you have to MAKE the time. Daily. Amazing things happens when you take 30 or 40 or even 60 minutes a day to exercise. You feel great, you feel energized, you are more productive.  But alas, not everyone can afford a personal trainer or audition for Biggest Loser. But almost everyone does have a smart phone…
 Solution: Smart Phone App & Social Media
We know the problem for many is just pure laziness. It is just easier to do nothing. But, for others it comes down to accountability. If no one is watching, why should I bother? The old cliché is the married spouse who 'lets himself/herself go' after marriage. That's not fair to your partner or to your children who are watching what you eat, and watch whether or not you value health or exercise in your household. Getting into a routine is also tough for many, and what I've found is that the solution, for me, is a combination of setting goals and 'telling the world' about my plans. This is where social media can actually come in handy. Put your (exercise) business out there.
 A Big Thank You for Bearing with My Exercise Posts on Facebook & Twitter
On that note, I want to thank my Facebook & Twitter family for putting up with all of my RunKeeper posts which track my workouts and posts them up for all to see. My reasoning for it is that I'm more likely to get up and go to the gym or get on the elliptical if I know that FB is watching or if I might even encourage or motivate someone else to exercise that day. I know it has worked on me!  Whenever I see a friend post a long run or bike ride, it inspires me to exercise that day as well. Sometimes we all need that extra nudge.
Two Century Rides and Two Half-Marathons in 2012
This year my goal was to finally do a Century (100 mile bike ride) and I ended up doing two. I also had a goal of running in my first half-marathon, and I ended up running two of them as well. Posting my progress during the training period, sharing pictures of the final event and hopefully inspiring others was my motivation. Tracking my fitness and sharing it on social media was a huge reason that I stuck with my programs and exceeded my goals.
 My Top 3 Exercise Apps
Like you need yet another reason to look down at your phone, right? Well, these are a few apps that I use and recommend if you are looking for that extra motivation to get you moving:
*This app data is pulled from: https://exercise.about.com/od/videosmusicsoftware/tp/fitnessapps.htm
1.   RunKeeper
If you're into tracking your running, walking or cycling workouts, RunKeeper can tell you how far you went, how fast you went and how long it took you to get there.  Stand-out features:
Ability to track speed, pace and elevation
Record your route and view it on a map
View a history of workouts
See your workouts online and share them with friends
Listen to music during workouts and change tracks without leaving the application
Enter a target pace and get cues on whether you are ahead/behind that pace
Now, I started with the free version, which is no longer available, but the pro version definitely offers more bang for your buck.
2.   iMapMyRun/iMapMyFitness
iMapMyFitness is a tracking app that uses your GPS to track your outdoor workouts.  You simply start the app and it marks your path while showing  time, distance, pace, speed, elevation and more.  You can also view your stats at MapMyFitness.com and share it with friends.  Other stand out features include:
Real-time tracking and an interactive map so you can see where you've been
The ability to view your workout history online
Manually enter workout information for other cardio or strength training workouts
Tweet your workouts to friends on Twitter
Voice feedback on things like distance, pace or speed
The company also offers apps for running, cycling and walking.
3.   Lose It
As free weight loss tracking apps go, you can't go wrong with Lose It. It's easy to use and offers tons of  feedback for anyone wanting to lose weight.  Some features include:
An estimate of the calories required to lose weight based on your goal (from 0 to 2 lbs a week)
The ability to enter foods using a comprehensive database
An exercise database to calculate calories burned
A chart that shows your daily calorie budget — calories eaten, burned and how many more you have left
You can track nutrients (fat, carbs, fiber, etc.) and add new foods to the database
View your progress by the day or week.
Lose It! is a great resource and, best of all, it's free.
There are definitely other apps out there that may work better for you, so do some research and see which ones have the features that you are looking for. Whether you are into cycling, running, swimming, or power-walking, there's some app that you can download onto your smartphone that will help you track progress and let you share it as well. "Digital incentives" and reward milestones are great motivators. You might even inspire someone else which feels great too.
If you get annoyed by someone's app constantly posting workouts (I may have lost a few Twitter followers) you can adjust your settings and better yet, your subscribers or friends can always block your app if it becomes that much of a burden on them.
Listen, if I have to put up with another picture of your baby propped up like a rag doll, or see what you're having for dinner or read another political meme, then you can deal with another work-out post on your newsfeed.
Resources:
10 Ways to Get Motivated for a Morning Workout
https://www.everydayhealth.com/fitness-pictures/10-ways-to-get-motivated-for-your-morning-workout.aspx#/slide-9
Best Exercise and Fitness Apps for iPhone and iPod Touch
https://exercise.about.com/od/videosmusicsoftware/tp/fitnessapps.htm
————————————————————————————
Ramon has over 19 years of experience in award-winning, market-proven, print collateral, marketing material, iphone/ipad app and website design specializing in corporate identity and branding. Ramon's passion for entrepreneurial design was borne out of 10 years as Creative Director for Jay Walker at Walker Digital, the Stamford based idea laboratory and business incubator holding over 300 US Patents. Ramon served as Senior Art Director on the start-up launch team behind Priceline.com, a Walker company and invention. Most recently, Ramon's logo and identity work was selected to be published in "Typography and Enclosures" the fourth book in the Master Library series by LogoLounge. Clients include: Warren Buffett's Secret Millionaires Club, Goldie Hawn's The Hawn Foundation, General Mills, RJ Reynolds, Sports Authority, Pepsi and Duracell.
Need help with your brand identity or want to overhaul your existing brand? Contact: ramon@peraltadesign.com
Follow Ramon on Twitter @Peralta_Design