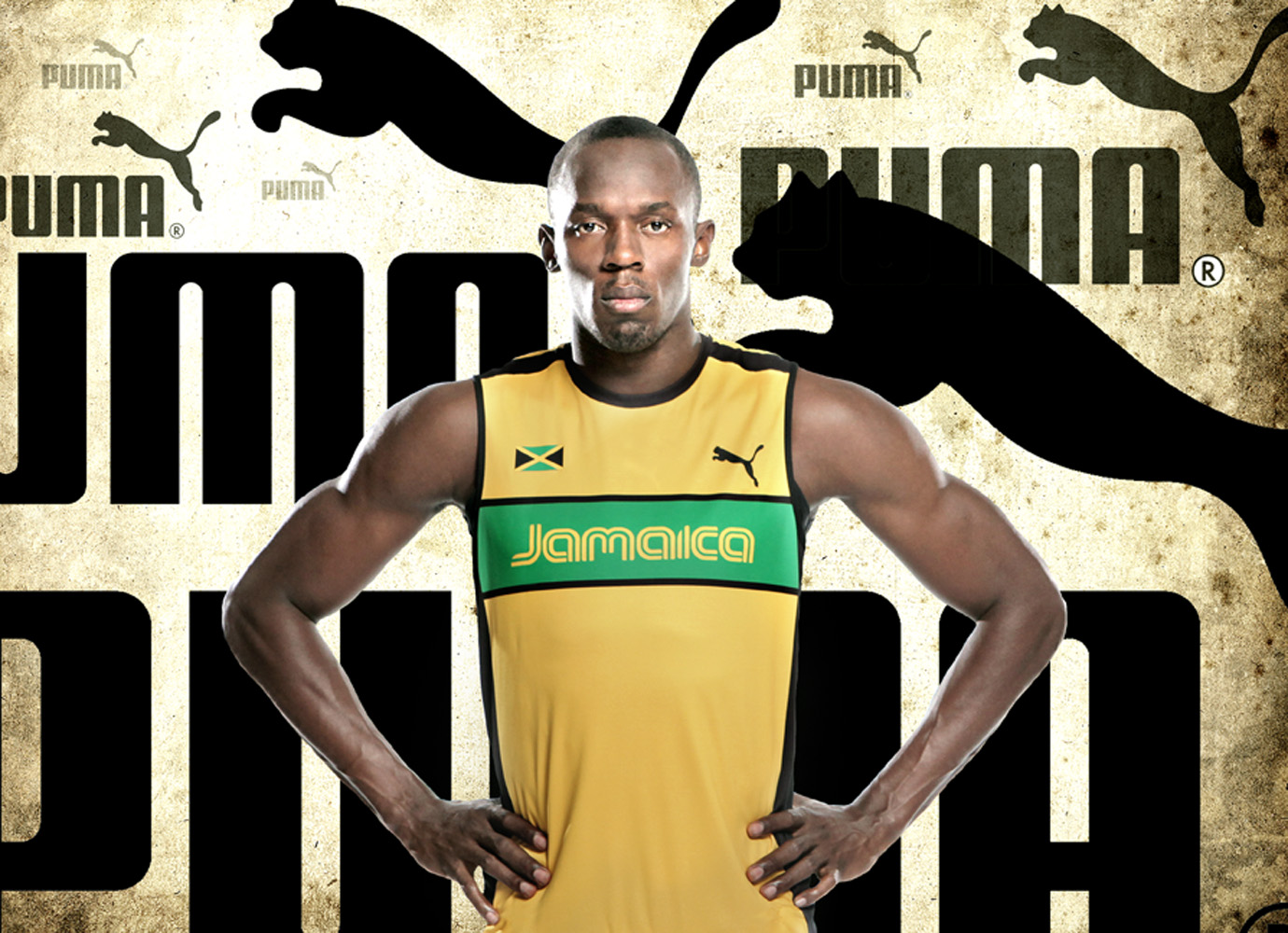 Why Usain Bolt would never leave Puma: The Puma + Jamaica Connection
By Ramon E. Peralta III
Thursday, August 25th, 2016
What is faster than Usain Bolt? Internet Rumors. With the closing of the much entertaining Rio Olympics this past Sunday, there seems to be an opening of new rumors surrounding the participating athletes. Most notably involving track and Olympic superstar Usain Bolt. Bolt has been deemed "the fastest man alive" after winning back-to-back gold medals in not only the 100m but the 200m and 4X100m in the Beijing and London Olympics. He has gone on to defend all three titles in his most recent, and said to be last Olympic showing in Rio this summer. When it comes to Bolt, strictly winning gold is not the only consistent thing his millions of viewers and fans have come to associate with the runner, it is also the leaping Puma® logo that can be found on his shirt, shorts, and shoes in every race. Puma®, a German athletics/casual footwear and clothing manufacturer, has had it's eyes on the superstar for a very long time.
Puma first began sponsoring a fifteen year-old Bolt when the young phenom began competing in local amateur races back in the early 2000's. This foresight into Bolt's career would first pay off for Puma, a then dormant brand once popular in the 80's when he competed and destroyed his competition in the 2008 Beijing Olympics. At this point in time, Puma was one of Bolt's mere two sponsors. Today, he has global sponsors in the double digits and pulls in over $30 million a year in endorsements alone. Who is at the top of all those sponsors? Who else but the one who saw the superstar that Bolt would become then Puma themselves. So with rumors spreading throughout multiple news articles and all over social media platforms that Bolt has recently inked a "lifetime" deal with competing apparel/footwear manufacturing giant Nike, why should his fans believe he left his most trustworthy sponsor for one of its competitors? The answer to this is they shouldn't, the rumor that Bolt signed a deal with Nike is just exactly that, a rumor. With the extensive mutual benefits that both Bolt and Puma receive by working together there is absolutely no reason for the two to part. Throughout Bolt's career the benefits the two have received are substantial, from his first appearance in Beijing to his newly signed contract with Puma that will last through 2025.
The following is an excerpt from Puma's Website:
PUMA and Jamaican Athletics: [a Timeline]
PUMA's history with Jamaica dates back to 2001, when the sportlifestyle company first entered a partnership with the Jamaica Olympic Association (JOA). The JOA oversees all Jamaican athletes competing in the Olympics; PUMA's partnership with them ensures Jamaican athletes across all areas of sport are equipped with PUMA gear for their Olympic competitions. 
In 2002, PUMA began to partner with the Jamaica Amateur Athletic Association (JAAA) which oversees all of the Jamaican amateur track & field athletes.  That same year, PUMA also started sponsoring the ISSA Boys & Girls Athletic Championships, an annual competition for the best Jamaican high school track & field teams.  This year is the 100th anniversary of the Boy's & Girl's Champs, as it's known throughout Jamaica.  It is one of the largest high school events in the world and each year a new set of promising young talents hit the track to show the world what they can do.  Many Jamaican Olympic medalists, including the world's fastest man, Usain Bolt all competed in this event. 
PUMA is dedicated to fostering young talent in Jamaica and fully sponsors the following high school teams: 
St. Jago Boys
St. Jago Girls
Wolmer's Boys
Wolmer's Girls
Jamaican College
Calabar
Munro
University of West Indies 
For the past decade, PUMA has had a large stake in Jamaican Athletics, supporting Jamaican Track & Field from the high school level to top athletes. PUMA also supports those who compete outside of Track & Field in the Olympics through our JOA partnership.  
PUMA Sponsored Jamaican Athletes:
Usain Bolt, Track & Field
Trecia Smith, Track & Field
Jovanee Jarrett, Track & Field  
Lacena Golding, Track & Field
Andrea Bliss, Track & Field
Clora Williams, Track & Field
Jermaine Gonzales, Track & Field
Maurice Smith, Track & Field 
2000
PUMA begins sponsoring the Gibson Relays
2001
PUMA partners with the Jamaica Olympic Association (JOA)
2002
PUMA begins sponsorship with the Jamaican Olympic Track & Field Team
PUMA begins sponsorship with the ISSA Boys & Girls Athletic Championships
PUMA enters partnership with the Jamaica Amateur Athletic Association (JAAA)
Usain Bolt become youngest ever World Junior Champion at 15 wearing PUMA apparel and shoes.
2003
PUMA enters an endorsement agreement with Usain Bolt 
PUMA begins sponsorship with the Reggae Marathon
2004
Jamaica women's 4x100m relay team wins gold in Athens Olympic Games 
2008
Bolt wins Gold in the 100 meters at the 2008 Beijing Olympics
Bolt wins Gold in the 200 meters at the 2008 Beijing Olympics
The Jamaican Men's Relay Team wins Gold in the 4×100 meters at the 2008 Beijing Olympics
2009
Bolt wins 12TH IAAF World Championships In Athletics in Berlin, Breaking His Own World Record in the 100m (9.58 seconds) and 200m (19.19 seconds). 
The year 2002 was the first time you would see Usain Bolt decked out in full Puma gear, as he would become the youngest World Junior Champion in the 200m. Soon after, in 2003 Puma would go ahead and pull the trigger fully endorsing Bolt under the Puma brand. Five years later, the manufacturing giant will see it's bet on the young track star pay off more then they could have ever imagined. After winning gold in all three of his events in Beijing, Pumas presence online globally increased by 64 percent during the Olympics according to marketing agency Zeta Interactive. Puma found itself finally comparable to its competitors such as Nike and Adidas whom were way ahead of the company in terms of sports endorsements. This trend would continue as Bolt continued to win competitions outside of the Olympics and then again in London in 2012 and now Rio. To further prove the importance of Bolt to the brand, his latest contract extension will last through 2025 far after the track star has hung up his cleats. It has already been made clear that Rio was most likely Bolt's last Olympic run so why would Puma continue to sponsor an Athlete who is no longer competing? Well, if you have ever heard of a man named Michael Jordan then you would know why. Michael Jordan, a 6x NBA champion and Finals MVP, has not played basketball professionally since 2003 and yet his Jordan Brand that is a part of Nike pulled in $2.8 billion in revenue last year alone. Now, Michael Jordan holds the number one spot in sports endorsement deals in history but clearly it is well worth it for Nike. Will Puma ever reach this kind of success with Bolt? Certainly not as track is not even close in terms of exposure to basketball and basketball shoes but the potential for success in the same way at a smaller scale is very much possible. So the next move for Puma and Bolt would be to create the same success they have had on the track off the track and hopefully at a larger scale.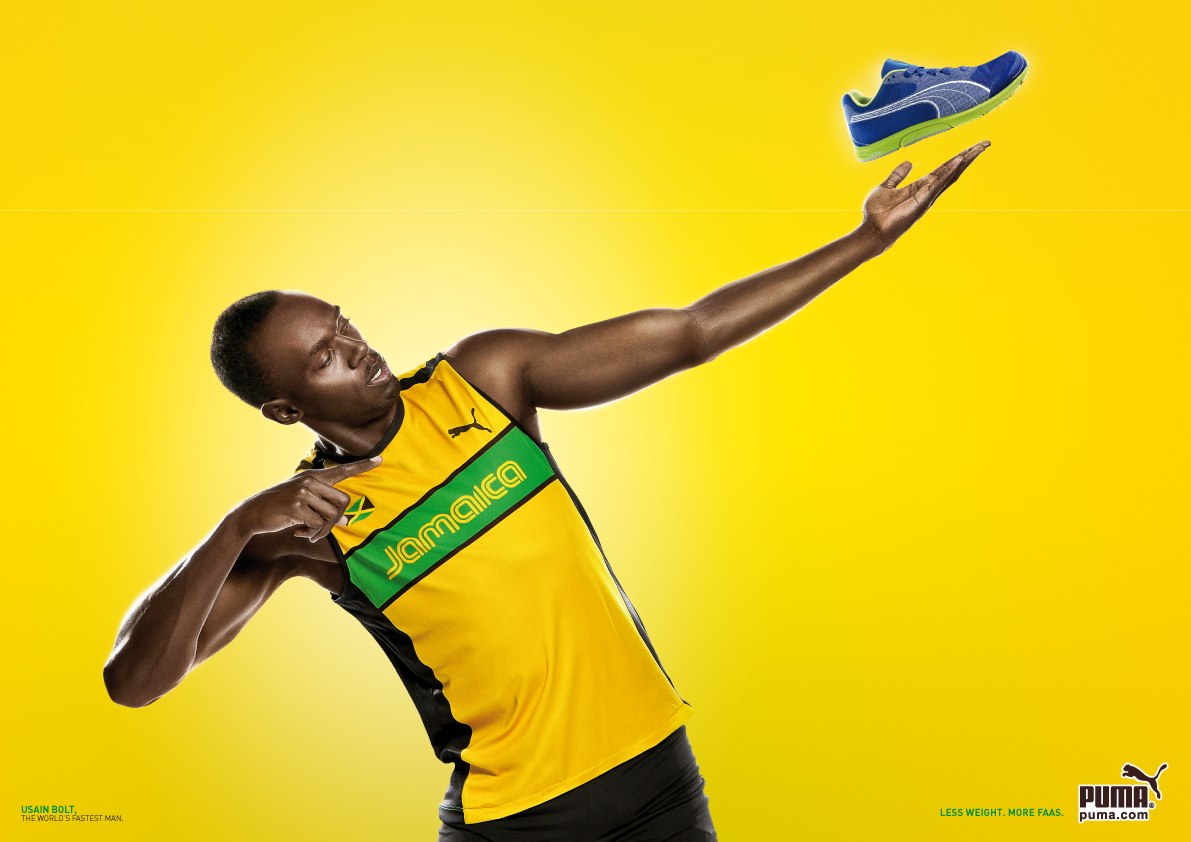 "I've been with Puma pretty much all my life. I don't know anything else but Puma" stated Bolt in a recent article in the Wall Street Journal. Bolt already has big plans for the future and of course they all involve the company that has been with him from the beginning, Puma. Like Jordan has done with Nike, Bolt would like to launch his own product line within Puma. He has even gone as far as coming up with the logo for his line which would be his famous celebratory pose where the star points upward to represent a lightning Bolt. We have already seen the great success that Puma and Bolt have had together through the past fifteen years or so but now we will have to see what the next fifteen years will bring with Bolt off the track. One thing we can say with the upmost certainty is that Usain has not and will never sign with Nike (or at least not anytime soon). It's good to know loyalty still matters.
Ramon "RJ" E. Peralta, III is a Business Development & Sales Intern at Peralta Design. RJ is pursuing a Bachelor of Arts in Economics at the University of Connecticut and will begin a study-abroad program with UConn in London this fall. His expected graduation date is 2017. RJ has previously interned with Stamford-based St. Onge Steward Johnston & Reens as a Global Transfer Intern as well as with Southport-based BTRE Partners as a Sales/Finance intern. He most recently averaged a 12.5% rate of return as a Virtual Portfolio Trader with online Investment Management Firm Zolio. He can be reached at RJ@peraltadesign.com. 
Photos are property of Puma®
Resources:
https://www.forbes.com/forbes/welcome/?toURL=https://www.forbes.com/sites/kurtbadenhausen/2016/08/12/how-usain-bolt-earns-33-million-a-year-a-whopping-10-times-more-than-any-other-track-star/&refURL=https://www.google.com/&referrer=https://www.google.com/
https://urbanintellectuals.com/2016/08/21/usain-bolt-signs-biggest-deal-history-nike/
https://newsjamaica.blogspot.com/2008/09/digicel-puma-and-brand-jamaica-emerged.html?m=1