I need business cards, that's who.
Ancient History? The desktop Rolodex.

Have you ever asked a young person (18-25) what a Rolodex is? Do you think they would know the answer? Chances are they probably won't. Has the Rolodex gone the way of the 8-Track, the cassette and the VHS?  Will it join the ranks of other relics of a bygone era?
No question, I'm a fan of business cards, and it's not just because I come from a print background. Maybe it's the 'hoarder' in me, but I love to collect them, stack them and have actually gone back to look for them to get a person's contact info. The argument today is that, in a Digital World, do we really need paper? I still think we do.
As a designer, it is what most often will make that first impression with a potential client. If my business card is well designed, then it will serve as my portfolio piece. Much like my Facebook page and my Twitter profile (and now my Pinterest profile) give you a glimpse into my world and my personality, I feel the business card does the same thing.
Do you remember Christian Bale in "American Psycho" when they were sitting around the table, admiring each other's business cards? That scene spoke to me as I am one to notice paper stock, texture and that elusive 'watermark' which screams quality and elegance. You don't see too many cards on linen, or watermark paper, and does anyone remember the raised-letter thermography that screamed 1980's? I blame the proliferation of desktop publishing software and online printers (which local printers can't compete with on price) for the wave of really BAD business cards that are on the street. I've been designing and printing business cards for years and feel strongly about how they are an integral part of any business' corporate identity package. It tells a story.
So, you need one, but do  you need to carry one?
 Recently, one of my Facebook friends, a prominent Atlanta-based banker who runs his own investment capital firm posted a status which offered a Business Tip: "Never take business cards to a mixer or networking event. Collect cards and control when and how you communicate. Take cards to the first meeting. By then they shouldn't need one".
I have to disagree with that sentiment. I'm usually stuffing my pockets with business cards because I'm a shameless self-promoter. When I do walk out of the house without them I feel naked. I just can't imagine having that opportunity to connect with someone and NOT having a business card to exchange with.  It's the most discreet, professional, and impactful way to begin the process of 'closing-the-deal'.
Usually I either meet someone, whether my referral or an introduction and I start by listening to the other person. Then I give them a background as to what we do at our firm and we agree to follow up if there appears to be any synergy. When the conversation comes to a close,  I ask for a business card. Once I receive theirs, I pull out a fresh-clean (no dog-eared, coffee-stained or ratty) business card, and close out with a firm handshake. I can't expect to ask that person to tweet me, call me, or 'look me up on Facebook'. Its too much to ask and its way too soon.
Recently, we moved offices as you know and I was in a transition period when I went 'card-less'. I didn't want to hand out my old card with my old number & address so I just winged it. I survived, but I feel like I missed out on some opportunities.  Just think of all the fishbowl's I couldn't drop a card in to win that elusive "FREE LUNCH" (I actually won once, but never claimed it).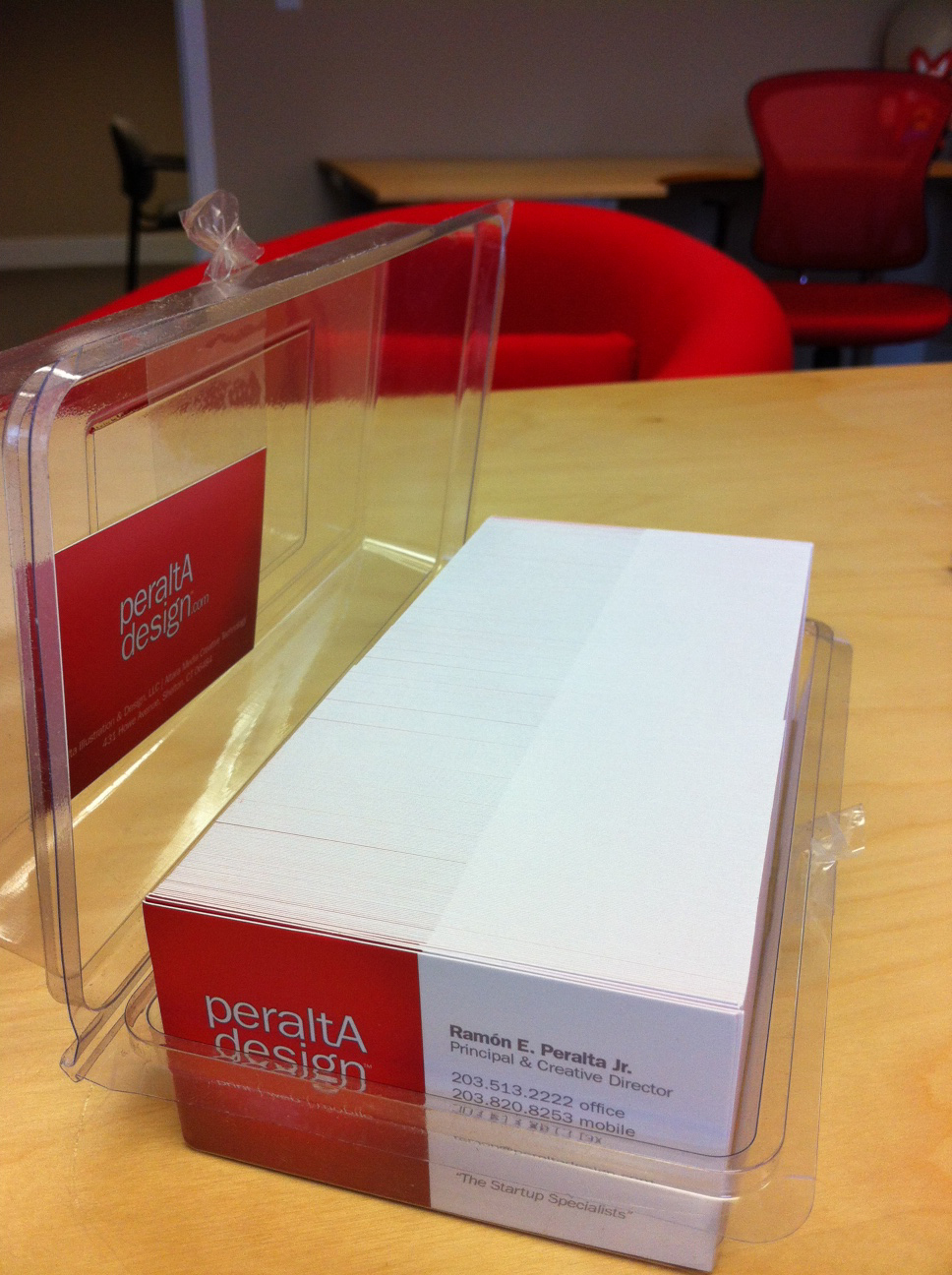 Here are the fresh new batch of cards that came in today.
QR Codes, V-Cards,  Card Scanners & Apps
As digital and progressive as I think I am, I  just never 'graduated' to the card scanner or the iPhone app 'bump' to exchange contact info. I still prefer to go old-school and prefer paper. There is something about the experience of receiving and exchanging printed business cards that I just think will never go away.  Recently, I've had some clients request QR Codes on their business cards. I obliged, but with a slight grin, I get a kick out of the logic behind it: you want to look hi-tech but traditional at the same time. I get it.
What does your business card say about you?
I can tell so much about you by your business card:
• Did you print free cards online and have a 3rd party logo on the backside (low-budget)
• Is it printed on cheap, thin paper (doesn't care for quality)
• Did you design it yourself and make copies at Staples or Kinkos (fly-by-night)
• Did you hire a professional to design it (values branding and good impressions)
Remember, that networking, relationships and first impressions are how many small businesses or consultants survive. Without my business card, I may never make that connection, and without that connection we may never know the possibilities of what could have been.
What do you think? Are Business Cards Obsolete?
————————————————————————————————————
Resources & Related Articles:
https://maryloukayser.com/2012/01/11/are-business-cards-obsolete-in-a-digital-world/
https://www.contrarianconsulting.com/are-business-cards-obsolete/
https://www.biztechrave.com/2012/03/21/online-and-digital-profiles-make-business-cards-obsolete.html
————————————————————————————————————
Ramon has over 19 years of experience in award-winning, market-proven, print collateral, marketing material, iphone/ipad app and website design specializing in corporate identity and branding. Ramon's passion for entrepreneurial design was borne out of 10 years as Creative Director for Jay Walker at Walker Digital, the Stamford based idea laboratory and business incubator holding over 300 US Patents. Ramon served as Senior Art Director on the start-up launch team behind Priceline.com, a Walker company and invention. Most recently, Ramon's logo and identity work was selected to be published in "Typography and Enclosures" the fourth book in the Master Library series by LogoLounge.
Need help with your brand identity or want to overhaul your existing brand? Contact:ramon@peraltadesign.com
Follow Ramon on Twitter @Peralta_Design