Barbie debuted on July 21, 2023 to a historically high opening weekend in the USA. So what contributed to this incredible launch? 👠
Pink and Green
Barbie had a reported marketing budget of $150 million (domestically) which is not not an unheard of budget for movies, however its efforts generated record-breaking worldwide box office sales! The marketing efforts broke into several different campaigns from traditional marketing to crossover media to creative ads and experiential marketing, Barbie left nothing untouched and quite literally the towns a literal iconic shade of pink.
Barbie World
After the initial trailer was released, Barbie even tapped into AI, with the Barbie Selfie Generator tool that allows social media users to create their very own Barbie posters! As these quickly flooded social media, Barbie took over all platforms in no time as the public joined in sharing Barbie-related material.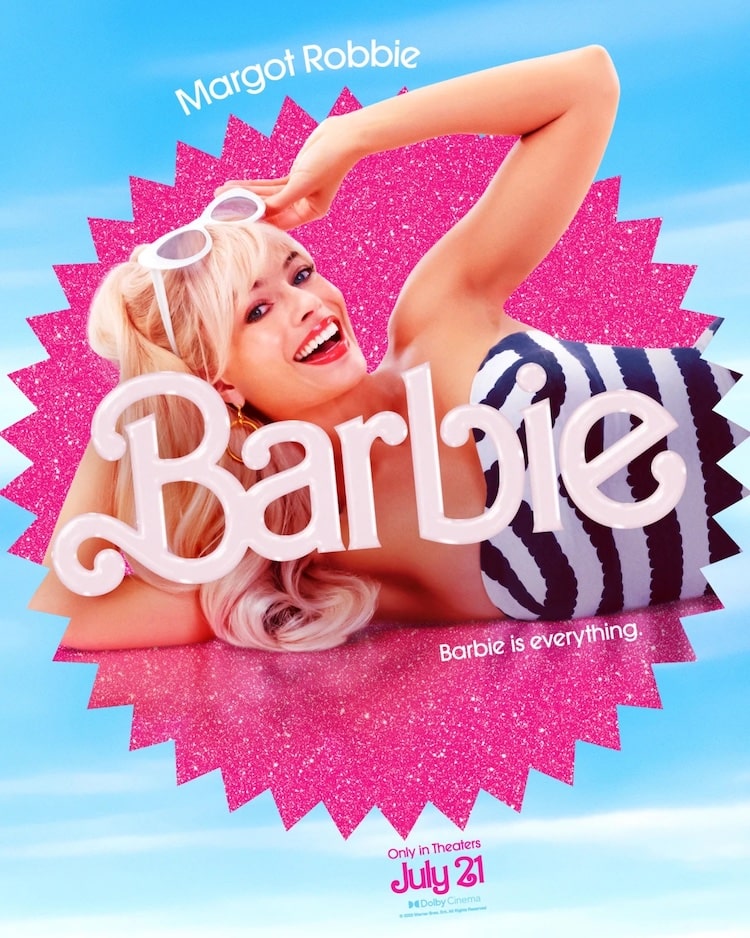 Go Big or Go Barbie
As seas of pink flooded the theaters, viewers found life size Barbie boxes that offered viewers a way to continue the hype with photo-ops of their own poses, friend groups, and personal items all while still promoting the movie. This was also a brilliant way to continue to tap into the virality and user-generated content! 
Barbie Brand Blitz
But the Barbie Marketing team didn't stop there, Warner Brothers and Mattel fully capitalized on partnership opportunities. From toys to adult fashion and even car insurance – Barbie was all over it! Barbie partnered with several big name brands including but not limited to Xbox, Airbnb, Burger King, Crocs and more to truly make us all feel like we were living in a 'Barbie World'.

At its peak, even Google joined in the Barbie spirit by turning shades of pink when someone googled Barbie. Even after it's peak on July 22-23 we can see that Barbie's stayed at a generally higher level of search volume than it was prior to the movie. It will be interesting to see how this continues as the movie leaves theaters.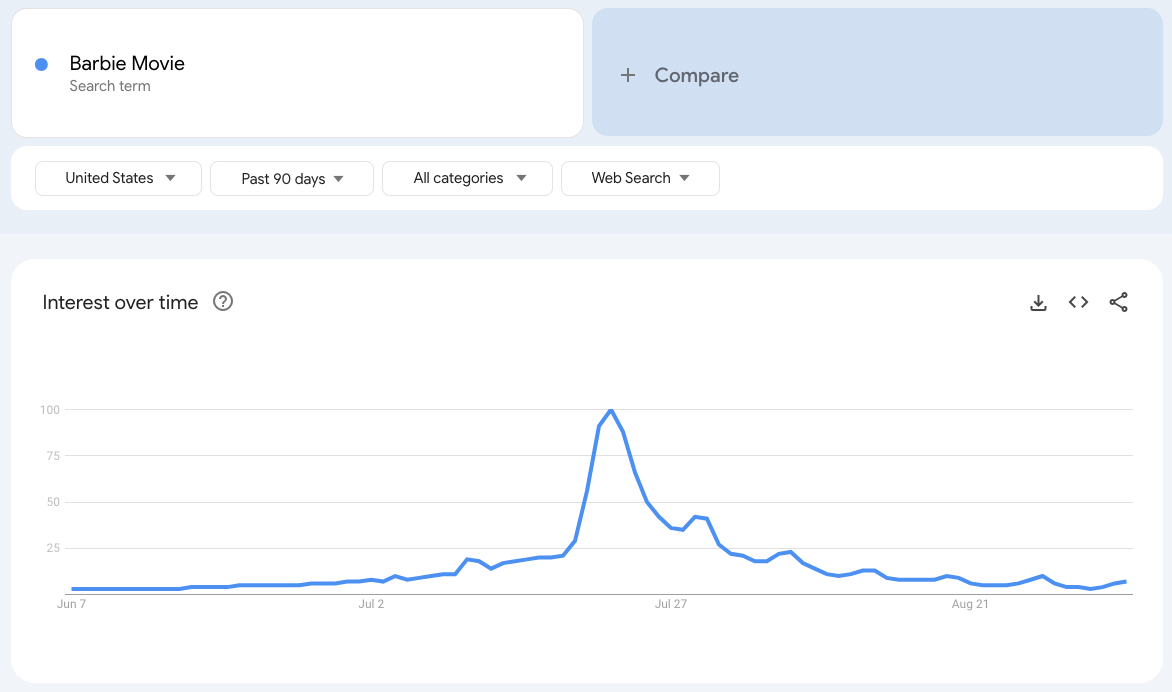 Top 5 Barbie Branding Lessons
So what can we learn from Barbie's Marketing Team? 
Effectively segment your audience – Barbie's campaign showed a deep understanding of their target audiences (children vs adults). While Barbie is traditionally a children's brand, the marketing efforts and messaging made it an experience that adults wanted to partake in as they created Barbie products that weren't just for children anymore. 

Importance of Brand colors – Barbie's marketing campaign is a masterclass in the effective use of brand colors. Barbie's pink is a hue SO iconic that it almost immediately triggers brand recognition around the world. From the first posters in the campaign that solely built anticipation by being only the right shade of pink with a date to all of the products that were created in the partnerships- this color played a huge role in the visuals of the campaigns.



Leverage cross-platform promotion – The Barbie marketing team did not limit themselves to only traditional advertising but also honed in on the use of social media and even AI! They are a great example of how these efforts can actually help one another to become even more successful. 

Partnerships – This may be one of the most iconic pieces of Barbie's marketing strategy, with OVER 100 BRAND PARTNERSHIPS to help ignite the buzz and excitement around the brand. Everyone wanted to be a part of it from insurance to burgers to clothing and more.

In Brazil, Burger King even created a PINK BURGER in its partnership with Barbie!

Image credit: Burger King Brazil
Experiential marketing – You may be wondering what that even means; experiential marketing is the process of creating an experience for the customer rather than approaching them with traditional marketing methods. Warner Brothers partnered with Airbnb to make a real-life Malibu hot-pink dream house where two lucky guests were able to stay one-night each on July 21 and 22 for FREE. This was a first-come first-serve basis but the guests did have to cover their own travel fare. This was a one-of-a-kind experience and a great marketing tactic as it quickly catapulted the talk of Barbie as people were interested in experiencing the Barbie world in full for free! 


All in all, while this campaign budget was MUCH higher than the vast majority of businesses could partake in, there are valuable lessons for any marketing campaign.