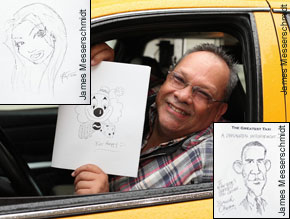 I wanted to honor my cousin, Fabio Peralta, known affectionally in some parts of NYC as the "World's Greatest Taxi Driver" not just because of his charming personality, strong work ethic, superior driving abilities, (which all Peralta's think they have), but it was because of something special that he inspired his passengers to do.
You see, Fabio Peralta's goal was not only to get you from Point A to Point B in the Big Apple, but he wanted to inspire something in you. He had a gift for inspiring all of his passengers to create something, anything at all. He was known to hand his passengers a blank pad and a pencil, or at times a pen and a stack of copy paper (hey, you might mess up the first time) and asked them to create art.
"I don't care what it is. Whatever comes to their brain, I say."
Fabio didn't do it for the money either. He found a special joy in what many might think was a non-glamorous job. Fabio knew that each moment we spend is precious, even if its a moment with a perfect stranger and he inspired his passengers to "create art."
Fabio's story is one that many NYC Dominican immigrants share: he arrived here as a teenager at the age of 14 in 1965 and immediately made a positive impact in his community. He spent over 46 years driving a Crown Vic yellow cab in NYC and over the course of his career, collected over 20,000 sketches from random doctors, lawyers, computer geeks and the like. Fabio had the gift of vision, a passion for inspiring creativity and although he never had the right opportunity to let it flourish or refine it in a university or online, he used his gifts to make the world a better place. Had he been born a few years later, he might've been a Youtube sensation or even inspired a reality TV show.
Fabio collected the sketches from his cab and would save up enough money to get them published. Once he got them printed, he would just give the books away. Initially he gave them away to anyone who would let themselves get filmed by him for another vision – a movie about his passengers.
The New York Post's Tom Namako once interviewed my cousin for an article (you can view it here: https://nypost.com/2009/06/15/every-rider-is-his-art-fare/ where Fabio claimed to have created videos of over 214 passengers. He was a filmmaker too. He was a creative director. He was an inspiration.
Fabio goes on to explain why he asked people to draw in his cab, "They have to enjoy the ride, not be worried about the things going on around them.."
The last time I saw my cousin Fabio was just a few short weeks ago at the NYU Medical Center in NYC. I brought him a sketchpad and an artist kit full of markers, pastels and colored pencils. I wanted HIM to draw something for a change, but he may have been too weak to even do that by this point.  He was somewhere around #600 in line for a liver transplant. He left the earth this week, suffering from complications from his illness. Fabio spent his last days surrounded by loving family, his children and his grandchildren and I can say that even though I was afforded the opportunity to study Visual Arts in college at age 18, and Fabio made a career out of driving a cab, he didn't let his job stop him from his passion. He lived with a genuine love for creativity and inspiring others. He was a 'ball-buster' and a prankster right until his last days. He loved making people laugh and he was fascinated with creativity and inspiring others.
Fabio, you inspired me and everyone you came in contact with and I know you are up there with the angels collecting drawings in the sky.
Video about Fabio Peralta in action produced by Italian media company:
Resources:
Another post as featured in TaxiGourmet.com
https://taxigourmet.com/2009/12/07/featured-cabbie-fabio-peralta/
https://theworldlink.com/news/local/nyc-cabby-turns-taxi-into-art-studio/article_0bb4a94f-1e6d-5677-932b-7cf03ffa7d81.html
Ramon has over 22 years of experience in award-winning, market-proven, print collateral, marketing material, iphone/ipad app and website design specializing in corporate identity and branding. Ramon's passion for entrepreneurial design was borne out of 10 years as Creative Director for Jay Walker at Walker Digital, the Stamford based idea laboratory and business incubator holding over 300 US Patents. Ramon served as Senior Art Director on the start-up launch team behind Priceline.com, a Walker company and invention. Most recently, Ramon's logo and identity work was selected to be published in "Typography and Enclosures" the fourth book in the Master Library series by LogoLounge.
Need help with your brand identity or need a responsive cutting edge web development project completed? Contact: ramon@peraltadesign.com
Follow Ramon on Twitter @Peralta_Design